A 10th Procrastination: Locked down
Is it still "procrastination" when all of us are just sitting around at home?
It's been some time so, just by way of reminder: I am Antony Dapiran, the author of City on Fire: The Fight for Hong Kong, and this is a Procrastination, an occasional email newsletter from Hong Kong.
If you were forwarded this email by someone else, you can sign-up to receive these emails directly via the "Sign Up Now" button at the end of this email. And of course you can always unsubscribe with one click and no hard feelings via the link also at the end of this email.
In this issue: traveling to Hong Kong during pandemic lockdown; other recent developments in Hong Kong; suggestions for sources of nourishment and consolation; and an unsubtle reminder that I have just published a book.
A Return Journey
I am writing to you tagged, tracked and in the midst of compulsory 14-day home quarantine in Hong Kong, having arrived here after spending the past six weeks or so in London and Lisbon.
It was a fraught journey, trying to secure tickets on flights as thousands of UK-based Hong Kongers — many of them boarding school and university students — were trying to get home.
A brief aside on the journey itself: I eventually flew from London to Hong Kong via Zurich, having to navigate restrictions on border crossings in Europe and Hong Kong. The number of times I was required to present my papers and credentials, each time with the possibility that I would be denied access to the next stage of my journey, engendered an unfamiliar and disquieting sense of vulnerability. The coronavirus constitutes a profound challenge to a particular view of the world — one that sees the world as a place of boundless possibility, where national borders and even citizenship are irrelevant, provided one enjoys the privilege of one of the "right" passports and sufficient financial resources. Might this be the end of the "citizen of the world"?
My fellow Hong Kongers on the flight were in "full gear" for the journey: face masks, eye goggles, plastic rain ponchos, some wearing shower caps in a fetching floral pattern. Combined with the fact that so many were young students, I had the uncanny sense that I was back at the front lines of last year's protests.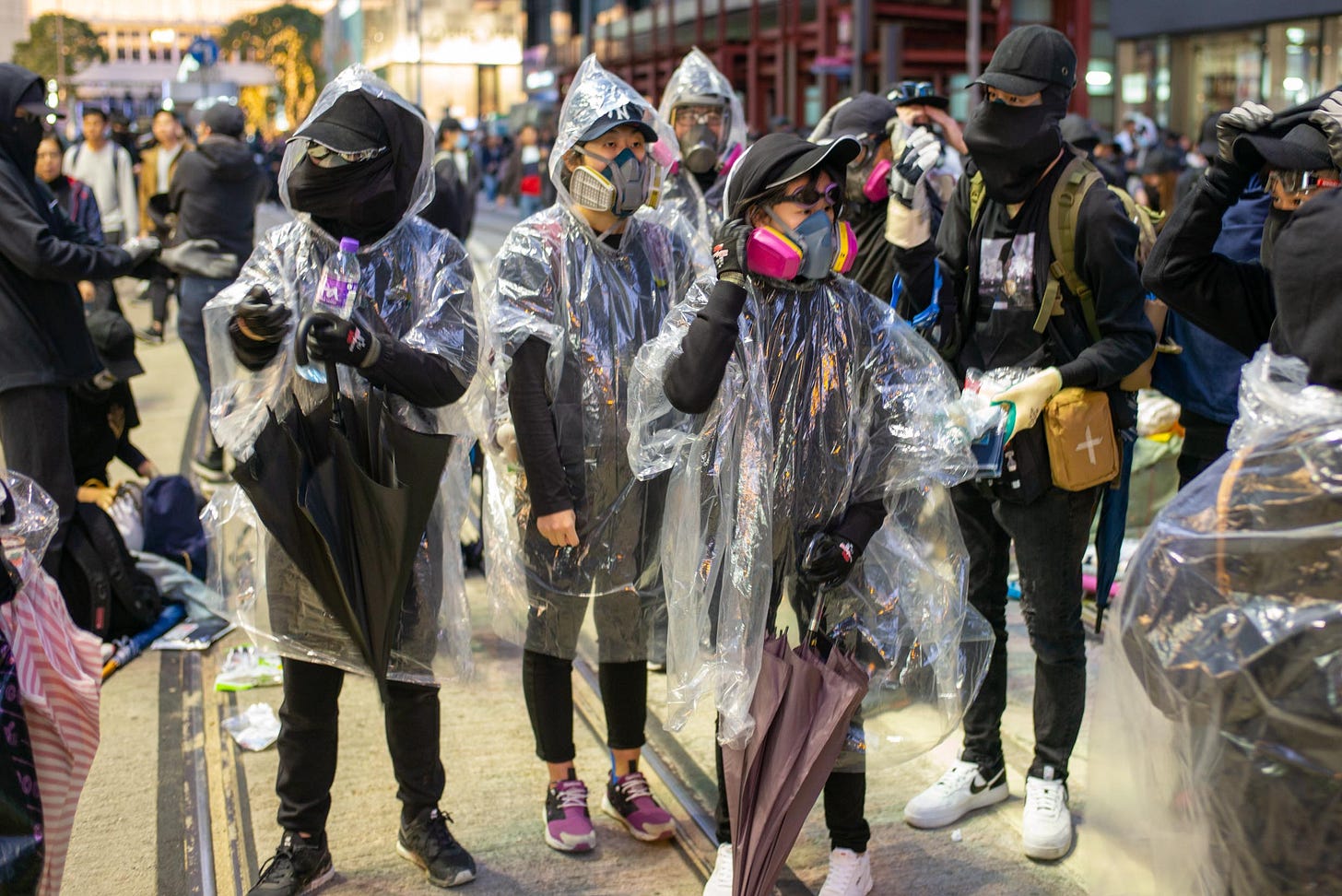 Gearing up for a fight…or flight?
Hong Kong is only permitting entry to residents, and requiring testing and a mandatory 14-day home quarantine for all arrivals from anywhere in the world.
The arrival process at Hong Kong airport was impressively organised: temperatures were checked, sample kits and instructions for testing provided (with particular credit to whoever in the Hong Kong government decided that the sound you make when trying to produce saliva from your throat is spelled "Kruuua"). You are then given a wrist-band which connects to a smartphone app to track your location and enforce the home quarantine. You are instructed to download the app (the government will lend you a phone for the 14 days if you don't have one), your wrist band is activated, and the contact phone number you provided checked to ensure you are contactable.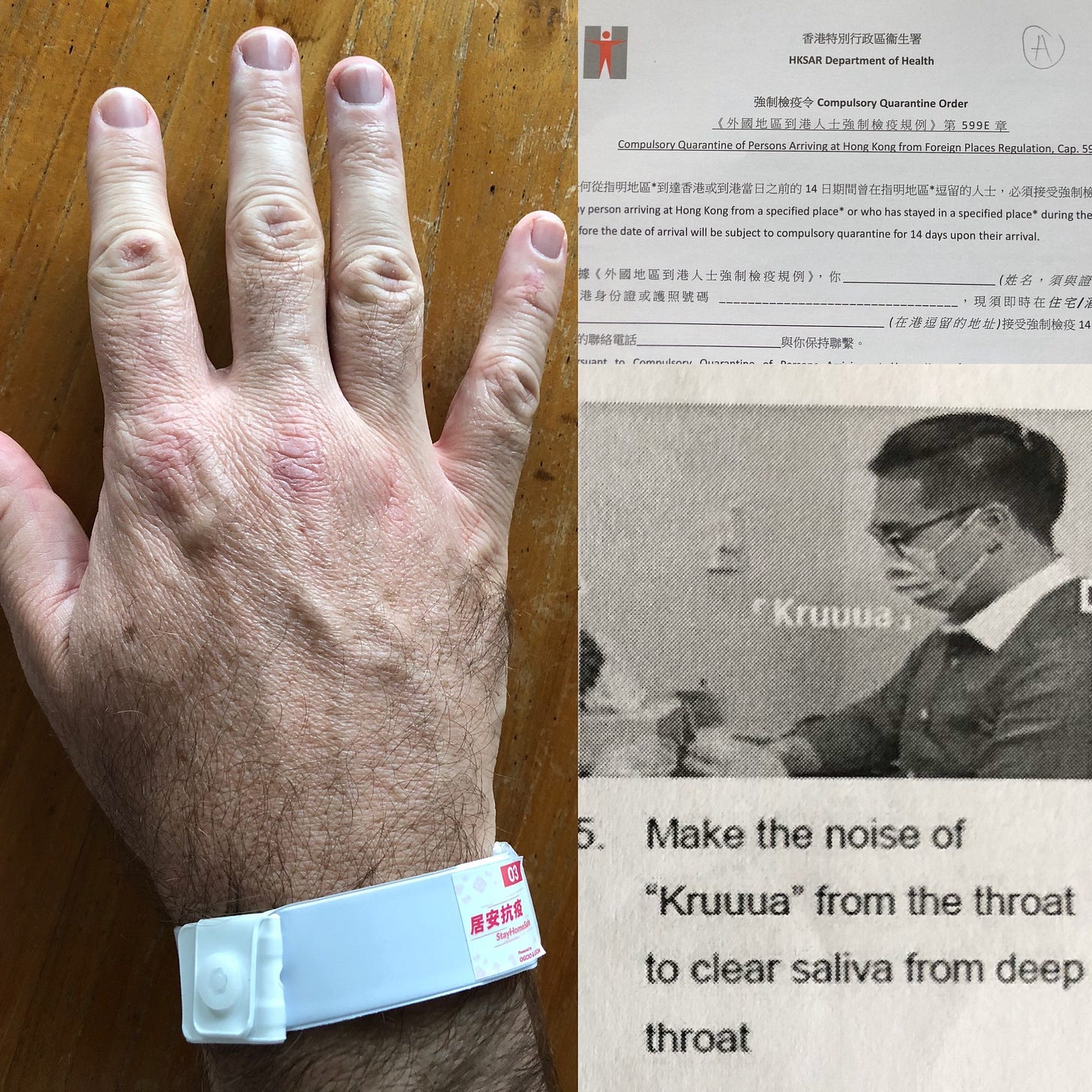 My wristband / The Quarantine Order / "Kruuua"
At immigration, the immigration officer signs your quarantine order. Then, after collecting your luggage (more than half of the luggage carousels area has been shut down and cordoned off, disused), it is out and into the eerily empty Hong Kong airport. I couldn't help comparing in my mind the empty arrivals hall, not only with its usual busy-ness, but also with the scenes last July when tens of thousands of black t-shirted young protesters filled the space.
Elsewhere in Hong Kong
Last weekend, Hong Kong implemented a ban on public gatherings of more than four people. Given the legitimate public health concerns, and with similar bans in place across the world, it was hardly objectionable but clearly something the government would have dearly loved to do during last year's protests. Let's see how long it takes for that ban to be lifted.
More alarming was the arrest last Thursday of Democratic Party district councillor Cheng Lai-king on charges of sedition. Cheng had posted, and later deleted, a message on Facebook identifying a police officer allegedly responsible for shooting an Indonesian journalist in the eye with a beanbag round, and had written: "If this officer still has good conscience, please turn yourself in. An eye for an eye!" (which the police apparently are alleging was a threat of violence).
Two aspects of the arrest were striking:
The crime of sedition has not been used in Hong Kong for decades, and is clearly out-of-step with modern human rights standards. The resuscitation of the offence shows that Beijing has no need to implement "Article 23" subversion/sedition laws any time soon. The existing colonial-era laws suit Beijing's purposes just fine for its "Lawfare" campaign against dissent in Hong Kong.

Cheng was arrested at her home in the middle of the night, in a police action clearly intended to intimidate rather than for any legitimate operational reason: the 60-year-old politician was hardly a flight risk. Alas Hong Kong has now become the kind of place where dissidents fear the proverbial knock-on-the-door in the middle of the night.
Out & About
A couple of weeks ago, I chatted to national living treasure Phillip Adams on ABC Radio National's Late Night Live about the latest developments in Hong Kong, and protest in the era of coronavirus. The world has somewhat moved on since then, but our discussion of Hong Kong is still relevant. You can listen to our chat here.
I was also delighted to speak at the London School of Economics at the invitation of the LSESU Hong Kong Public Affairs and Social Service Society, alongside Simon Cheng (former British consulate employee and guest of the PRC state security apparatus), in what was probably one of the last public events in London before the lockdown. Many thanks to LSESU HKPASS for the invitation.
Book News
My new book, City on Fire: The Fight for Hong Kong, was published in Australia two weeks ago, and will be published in the UK and Asia next week. (US publication is end of June.)
The book received a very kind review in last week's South China Morning Post Sunday magazine:
"City on Fire lives up to its publisher's promise of providing an essential guide to the Hong Kong protests… [The book] illuminates every phase, trigger and turning point, skirmish and tactic… Dapiran opens the door to an extraordinary tale of identity and tear gas, violence and enchantment, creativity and desperation, and how they manifested on the streets of Hong Kong and coalesced into a new-found solidarity."
The Amazon Kindle version is available now. (Please leave a review! Currently I have one grumpy "Blue Ribbon" as my only Amazon reviewer…)
If you are in Australia, you can order from my publisher Scribe directly (with free delivery), or from your local independent book store. In Melbourne, Readings have it in stock. In Sydney, Gleebooks is offering free delivery anywhere within the Inner West or City of Sydney council areas.
In Hong Kong, early-release copies are available now through Bleak House Books.
Unfortunately, launch events have been cancelled as have the various literary festivals I was due to appear at in Australia in May. However, any disappointment quickly pales in comparison to the very real life-and-death struggles people are engaged in around the world, and the concern we all feel for our loved ones.
Nourishment & Consolation
In the midst of coronavirus isolation, I — and I am sure many of you also — have been in search of nourishment and consolation. I thought I would share a few such consolations I have found in cinema, literature and music.
I re-watched Grant Gee's documentary (or, rather, film essay) Patience (After Sebald), a cinematic exploration of W.G. Sebald's The Rings of Saturn. This meditative, elegiac film with rich black and white imagery, serves as an indispensable companion to Sebald for those who have read him, and an ideal introduction for those who have not. (You can watch the movie online or download it here.)
This naturally prompted me to begin re-reading Sebald's work, beginning with The Emigrants and moving on to The Rings of Saturn. There is something about Sebald, and his explorations of the darker moments of the 20th century, that just seems so apropos to our current experience.
One of the joys of Gee's film is the soundtrack by musician James Leyland Kirby, recording as "The Caretaker". Kirby created the soundtrack by deconstructing and looping snippets of a scratchy old recording of Schubert's masterpiece of German lieder, Winterreise, in the process compressing the emotion and intensity of an already emotional and intense work. (Listen on Bandcamp — personal highlights are tracks 5 & 10).
But of course, you should listen to Schubert's original as well ( for example, as performed here by Ian Bostridge and Saskia Giorgini), written by an ailing Schubert in the final year of his life (he was correcting the proofs on his death bed). If you want to explore further I would highly recommend Bostridge's book Schubert's Winter Journey: Anatomy of an Obsession which digs into the many layers of Winterreise.
One indication of Sebald's literary achievement is how his name quickly became adjectivised, with the work of subsequent writers being flattered with the description "Sebaldian". The description could not be more apt when describing another of my recent isolation readings: Esther Kinsky's River, published in the UK by the wonderful Fitzcarraldo Editions. I saw Esther speaking at the Bergen Literary Festival, and River, which is focused on the narrator's explorations around the Lea River in East London, recalls Sebald's work, sitting at the intersection of fiction, memoir, travel writing and history, while also making using of photographic images within the text.
And as I sit now and reflect on all of this, is it any wonder that I have been so taken lately with Sebald and Schubert, as one of the many leaflets provided to me by the Hong Kong government informs me that one of the symptoms of coronavirus is apparently "malaise"?
I daresay we are all, somewhat, afflicted.
And Finally
If the mood strikes, please do drop me a note (you can just reply to this email), whether to compare isolation experiences or reading and viewing recommendations, or just to catch up. In the absence of a regular social life, I have found a renewed correspondence with friends around the world to be a wonderful tonic.
Wherever you are, I wish you and your loved ones good health and buoyant spirits.
Antony
---
Were you forwarded this email by a friend? Sign up here to receive A Procrastination direct to your inbox!