Discover more from A Procrastination
Updates on Hong Kong & China politics, business & culture, and other matters of interest from Antony Dapiran, Hong Kong-based writer, lawyer and photographer, and author of "City on Fire: The Fight for Hong Kong" (Scribe, 2020).
Over 2,000 subscribers
A 3rd Procrastination: Bad Law & Lawfare
In which police are respected. Or else.
Dear friends,
This is A Procrastination, an email update from Hong Kong.
As always, you can unsubscribe by clicking on the "Unsubscribe" link at the footer of this email. If you were forwarded this email by someone else, you can subscribe to receive future instalments directly by clicking the "Sign up now" button, also at the end of this email.
If you are here thanks to the kind referrals from Bill Bishop in his Sinocism newsletter or Jeremy Goldkorn in his SupChina newsletter, welcome! (Any friend of Bill's or Jeremy's is a friend of mine.) And if you are interested in China news/analysis and are not subscribing to their newsletters already — you should be!
HK Update: More Bad Law; More Lawfare
Pro-Beijing political party the DAB has been agitating for years for a law that would make it a criminal offence to insult Hong Kong police.
On Friday evening the DAB's wish was finally, indirectly, granted.
It came under the cover of an injunction obtained by the Department of Justice which prevents anyone "unlawfully and intentionally":
"using, publishing, communicating or disclosing" the personal data — including the photograph — of any police officer; or

"intimidating, molesting, harassing, threatening, pestering or interfering with any Police Officer",
or their families.
Breaching the injunction would result in criminal contempt charges, the same charges used to jail Joshua Wong who was sent down for breaching an injunction during the clearance of the Umbrella Movement Mong Kok "occupied" site.
This latest order was ostensibly obtained to prevent the "doxxing" of police and their families. Now, the practice of doxxing — revealing the personal details of people online, thus exposing them to potential harassment — is abhorrent, and even more so when it targets victims' families. The practice has unfortunately been carried out on all sides in Hong Kong (a pro-Beijing site hosted in Russia doxxes protesters, journalists and pro-democracy politicians). But the means adopted to prevent it in this case have serious implications for freedom of expression and Hong Kong's rule of law.
The biggest problem with the injunction is that, after engaging in discussions with numerous fellow lawyers over the course of the weekend, none of us can precisely determine the scope of the injunction or how it will be enforced. The only conclusion all can agree on is that is effectively "legislating by the back-door", and that the scope is unreasonably and unnecessarily wide.
The order could be read to prohibit anyone taking a photograph of a police officer — including those on duty policing protests — and posting that photograph online. It could also be read to criminalise any action that "harasses" or "pesters" police, something that has frankly become something of a pastime for Hong Kongers, who have taken to shining laser pointers, shouting abuse and singing satirical songs at police officers. All of that behaviour might now subject someone to arrest.
In theory, the injunction should only apply to behaviour that is in itself already both unlawful and intentional, thus constraining the scope somewhat. However, that will be cold comfort to anyone who is crash-tackled to the ground by police who think the injunction now gives them carte-blanche to arrest anyone they think is annoying them or taking their photo. And anyone who is arrested would then suffer the time, costs and stress of defending themselves in court.
So, even if it is not yet technically a crime to insult the police in Hong Kong, few people would be willing to go to court to prove the point. Which makes it de facto law.
The real effect of the injunction will therefore be its chilling effect. Given the risk of being arrested, many people will conclude it is safer just to stay silent.
This is particularly a concern in an environment in which legitimate questions are being asked about police conduct. It is clearly in the public interest, and in the interests of the administration of justice, for citizens to have the right to document police (mis)behaviour as well as identify the police involved in order to lodge complaints with the much-touted Independent Police Complaints Council, to facilitate future disciplinary action or even criminal charges. This injunction seems intended to frustrate attempts to do just that.
As if to emphasise the point, Hong Kong Police continued to behave poorly on Sunday, unleashing teargas at the intersection of Tsim Sha Tsui's main drag Nathan Road and the harbour front, Hong Kong's most highly trafficked tourist spot, in the middle of a sunny Sunday afternoon. Tear gas reportedly drifted into the lobby of The Peninsula, choking those enjoying their high tea. (Is nothing sacred?) Police also arrested prominent Hong Kong Free Press photographer May James while she was working photographing the front lines.
Finally, the injunction singles out police for special treatment, for legal protections above and beyond those granted to ordinary citizens, placing them "above the law". If doxxing is a concern, the proper course of action — consistent with respect for the rule of law — would be to legislate to protect all members of the community equally.
---
Just like the anti-masking law, the anti-doxxing injunction is another example of Bad Law. Law that is vague, difficult to interpret, of questionable enforceability and gives excessive discretion to those enforcing it, is Bad Law.
Law that is enacted with the full knowledge of the authorities that it will not be consistently and properly enforced is Bad Law. People continue to wear face masks; people continue to join "illegal" protests to which the police have objected under the Public Order Ordinance, and people will continue to take photographs of police and sing 啊死黑警 (Ah! Dirty Cops!).
Bad Law undermines the rule of law, introducing elements of uncertainty, discretion, unpredictability and non-transparency into our legal system.
But perhaps the Hong Kong government doesn't care about Bad Law, because their intention is that none of these laws are intended to be properly enforced anyway — they are there precisely for their chilling effect.
These Bad Laws also continue the Hong Kong government's campaign of what I have called "lawfare", a campaign that has been ongoing since the end of the Umbrella Movement.
As I explained in a short piece for Melbourne University Law School's Asian Law Centre back in 2017:
[The National Anthem Law] is just the latest step in an ongoing campaign of "lawfare" which has seen the authorities in Hong Kong and Beijing make use of the legal system as a tool to achieve political objectives. Other actions have included court actions to disqualify duly elected legislators and pushing the courts to jail political protesters. The lawfare campaign is politically astute, as it enables the authorities to appeal to the need to uphold Hong Kong's rule of law, universally recognised as a core value of Hong Kong, while using that same legal system to target the actions of dissenting politicians and activists.

However, by appealing to the values espoused by Hong Kong's rule of law, while simultaneously undermining those same values, the campaign has an insidious effect on confidence in Hong Kong's legal system. This will ultimately have implications not just for political dissenters but for business confidence in a city which seeks to distinguish itself from the rest of China almost solely on the basis of its independent, transparent and predictable justice system.
I also wrote in some detail about the lawfare campaign for the ANU Australian Centre on China in the World's The China Story yearbook 2017, where I concluded:
Jail, bankruptcy, ruined career prospects — the Hong Kong government is trying to make the cost of dissent intolerably high. It wants Hong Kong's politically active youth in particular to think twice about the cost of standing up for their beliefs.
It seems at least for now, however, that Hong Kong's politically active youth will not be cowed so easily.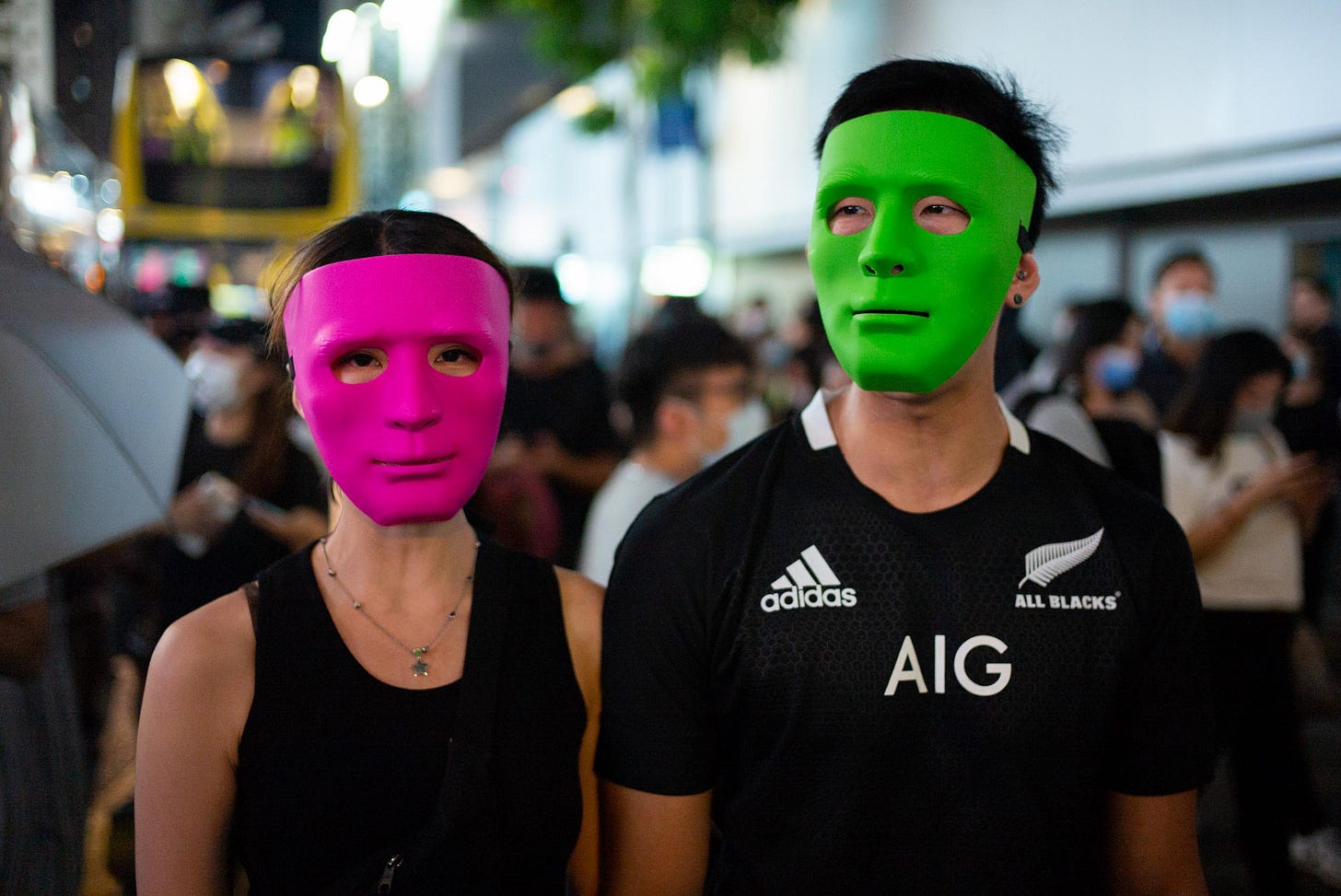 Hong Kong's face masking ban: a Bad Law that has inspired a variety of creative responses.
Clippings & Media
I was extremely flattered to be interviewed by Amanda Tattersall for her ChangeMakers Podcast recently. Amanda is an academic and activist, and one of the co-founders of the inspiring and incredibly effective Australian grass-roots activist group GetUp.
My conversation with Amanda was rather more personal than usual: I talk about how I came to be where I am and doing what I am doing, as well as sharing some big picture thoughts on the ongoing protests in Hong Kong. You can listen to our conversation directly here:
I also highly recommend the ongoing series of podcast episodes Amanda has produced on Hong Kong. The first episode of the series has some stunning first-person descriptions by Lee Cheuk-yan and others of the Tiananmen Square demonstrations of 1989 and explains the Hong Kong connection to those events, and the second episode does a deep dive into how the Umbrella Movement has influenced this year's protests. Amanda tells me more episodes are in the pipeline: can't wait!
Links & Recommendations
I am occasionally contacted by aspiring protest photographers and reporters who plan on dropping into Hong Kong to cover the protests and are looking for advice. Without going into the advisability or otherwise of doing that, my number one piece of advice is always carry your passport or HKID card with you: failing to produce ID during a police ID check is a direct ticket to the police station. My second piece of advice is to watch this briefing given by the Wall Street Journal's security expert Stevo Stephen to the Foreign Correspondents' Club: The Hong Kong Protests – A Workshop on Journalists' Safety.
Stevo, along with Sharron Fast of HKU, gave an update this past week, From Water Cannons to the Face Mask Ban: Dealing with Increased Risks at the Protests.
Both videos are available online (follow the above links) and are essential viewing if you plan on heading out onto the streets. All the other sessions in the FCC's ongoing "The Hong Kong Protests: An FCC Workshop Series for Journalists" are also available online and definitely worth your time.
In Closing
In honour of Bad Law, I had originally intended including some photographs of police officers, but had second thoughts. So instead I offer just one photograph of riot police guarding Victoria's Secret, in which none can be identified. Consider me Chilled.
This has been A Procrastination. Feel free to share it with any friends who also should probably be doing something else.
Thanks for reading.
Antony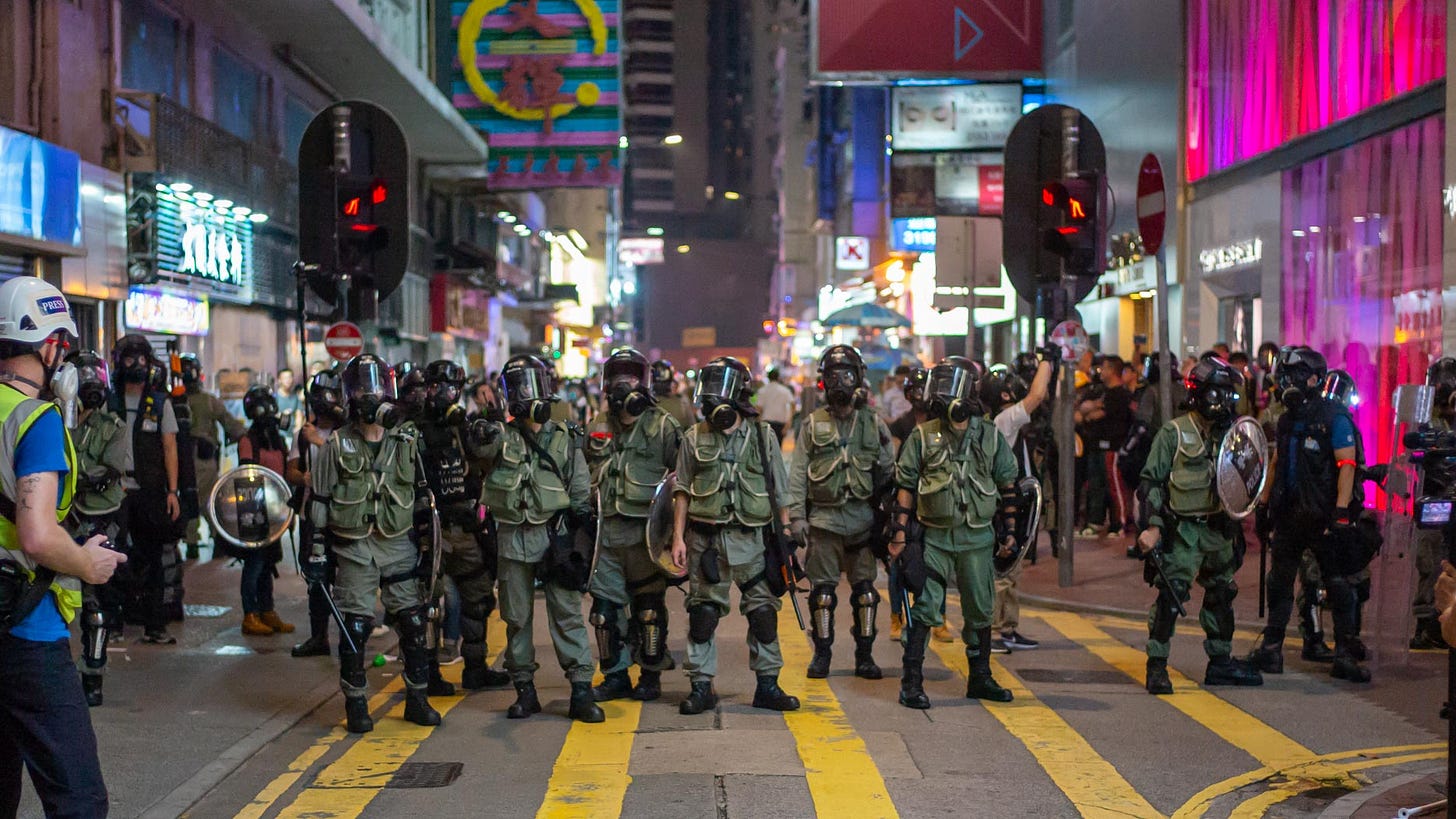 ---
Were you forwarded this email by someone else? Would you like to receive future instalments direct to your inbox? Sign up here!