A 4th Procrastination: Internet Censorship in HK
In which the cycle continues.
Dear friends,
This is A Procrastination, an email update from Hong Kong: a City on Fire.
Lawfare again
The Hong Kong government threw one more log on its bonfire of Hong Kong's rule of law last week, with another injunction obtained in the courts, this time to prevent the dissemination online of any information that "promotes, encourages or incites the use or threat of violence" to person or property.
Again the terms are wide, covering "disseminating, circulating, publishing or re-publishing" any such information as well as "assisting, causing, counselling, procuring, instigating, inciting, aiding, abetting or authorizing" — this would potentially catch not just the people posting but also the operators of platforms such as the LIHKG site, Telegram chat group admins, Internet Service Providers, server hosts, and so on.
Even more so than the previous week's anti-doxxing injunction, this injunction directly targets freedom of expression. We will all no doubt have our own views about the desirability of, say, trashing a Starbucks store or the Xinhua News Agency HQ, and if anyone actually goes out and does it, such action will — as it should — have legal consequences. But this injunction seeks to prevent people even talking about it.
In the same week, Judge Mimmie Chan in the course of denying another injunction, this one sought by TVB who were seeking to prevent protesters interfering with their equipment and reporting, made some comments that are instructive. Chan said:
The Court does not act in futile [sic], so it will refrain from making an order which cannot be policed and enforced, either because it is uncertain in scope and terms, or if it is otherwise impossible to identify the party who is in breach of the order.
Chan also pointed out:
the invocation of the civil law, and in particular the power to grant an injunction, in aid of the criminal law, is an exceptional course not likely aceded to by the court, because it may result in far more onerous sanctions than the penalty imposed for the offence.
These principles, if consistently applied, should have resulted in all of the government's recent injunctions being denied.
Hong Kong's body of law is now being supplemented by a steady stream of injunctions banning people posting on the internet, doxxing police, interfering with the airport, disrupting the MTR, inspecting voter registration information and occupying or defacing police living quarters (all things which the existing law is perfectly capable of policing). Is the government strategy simply to continue smothering the public with court orders until they submit?
Beijing speaks
Statements coming out of Beijing following the Party's 4th Plenum meetings last week raised some alarm, with a spokesman saying that Hong Kong was "an important item for discussion at the plenum" (probably not a good sign).
Three key statements which attracted the most attention, and my thoughts, as follows:
"build and improve a legal system and enforcement mechanism to defend national security" in Hong Kong & Macau: Many have seen this as an indication Beijing plans to reintroduce the much-maligned "Article 23" anti-sedition laws, shelved after protests in 2003. It would seem, at the least, inadvisable for Beijing to make another attempt to do this in Hong Kong's current tinderbox environment and I don't think they would be foolish enough to attempt to do so at this stage. The question is, when would it not provoke a massive push-back from the Hong Kong public? Probably never.

"strengthen the national education of Hong Kong and Macau people, especially civil servants and young people, including education on the constitution and the Basic Law, Chinese history and culture, in order to boost their national consciousness and patriotic spirit": Again, many have seen this as code for a renewed attempt to introduce a "national and moral education" curriculum similar to that blocked by the protests in 2012 led by Joshua Wong and his Scholarism group. Again, I think it unlikely that Beijing would attempt anything so brazen, but certainly we should expect increased attention and pressure on the civil service, universities and other institutions to ensure their "patriotism".

"enhance the system and mechanism over the appointment of chief executive and principal officials": I see this as a clear indication that Beijing has no intention of giving Hong Kong the wider model of universal suffrage for Chief Executive that protesters have been asking for since the Umbrella Movement of 2014, not to mention full universal suffrage of the Legislative Council. It also suggests the patriotic bona fides of other senior Hong Kong officials will be subject to scrutiny.
Meanwhile, the government announced that Carrie Lam will be making an unexpected visit to Beijing this Wednesday to meet with Han Zheng, the senior State Council official in charge of Hong Kong & Macau affairs. Will Lam still be Chief Executive this time next week? Stay tuned!
The cycle continues
Hong Kong's police have continued to provide plenty of fuel for outrage this past weekend, with clashes between police and protesters during a peaceful election rally at Victoria Park on Saturday, and riot police storming shopping malls on Sunday. Please just pause to reflect on what the average shopping mall is like on a Sunday afternoon — families, children, the elderly, all enjoying an afternoon out — and then place armed riot police spraying pepper spray and wielding shotguns in the picture. Yes, that is what happened.
Hong Kong seems to be trapped in this weekly cycle of unrest and repression — conflict between protesters and authorities — with no clear endgame on either side. The protesters are not giving up (as the government had hoped), while the government is taking no action at all to resolve the crisis. In the meantime, Beijing's statements (above) suggest that they are willing to use the broader policy tools at their disposal gradually to stifle dissent in the medium term, at the cost of suffering the ongoing short term instability.
Clippings
The role of Hong Kong's shopping malls as sites of contestation during the ongoing protests has been an interesting phenomenon, reflecting the unique role shopping malls have in Hong Kong urban culture. Sunday's shopping mall clashes provide an occasion to revisit a piece I wrote for New Statesman back in August: How Hong Kong's shopping malls became a new arena in the fight for democracy
I have a long-form piece in the latest edition of the Mekong Review, out this week: "Hong Kong Burning" — my protest journal of Hong Kong's Summer of Discontent.
The Mekong Review is a quarterly literary journal that aims to bring the literary and intellectual life of Southeast Asia — and the Asian region more broadly — to a wider audience. It's always a great read and (while I am probably biased) this latest issue is a cracker, with a focus on recent events in Hong Kong and a striking cover by Hong Kong illustrator Don Mak.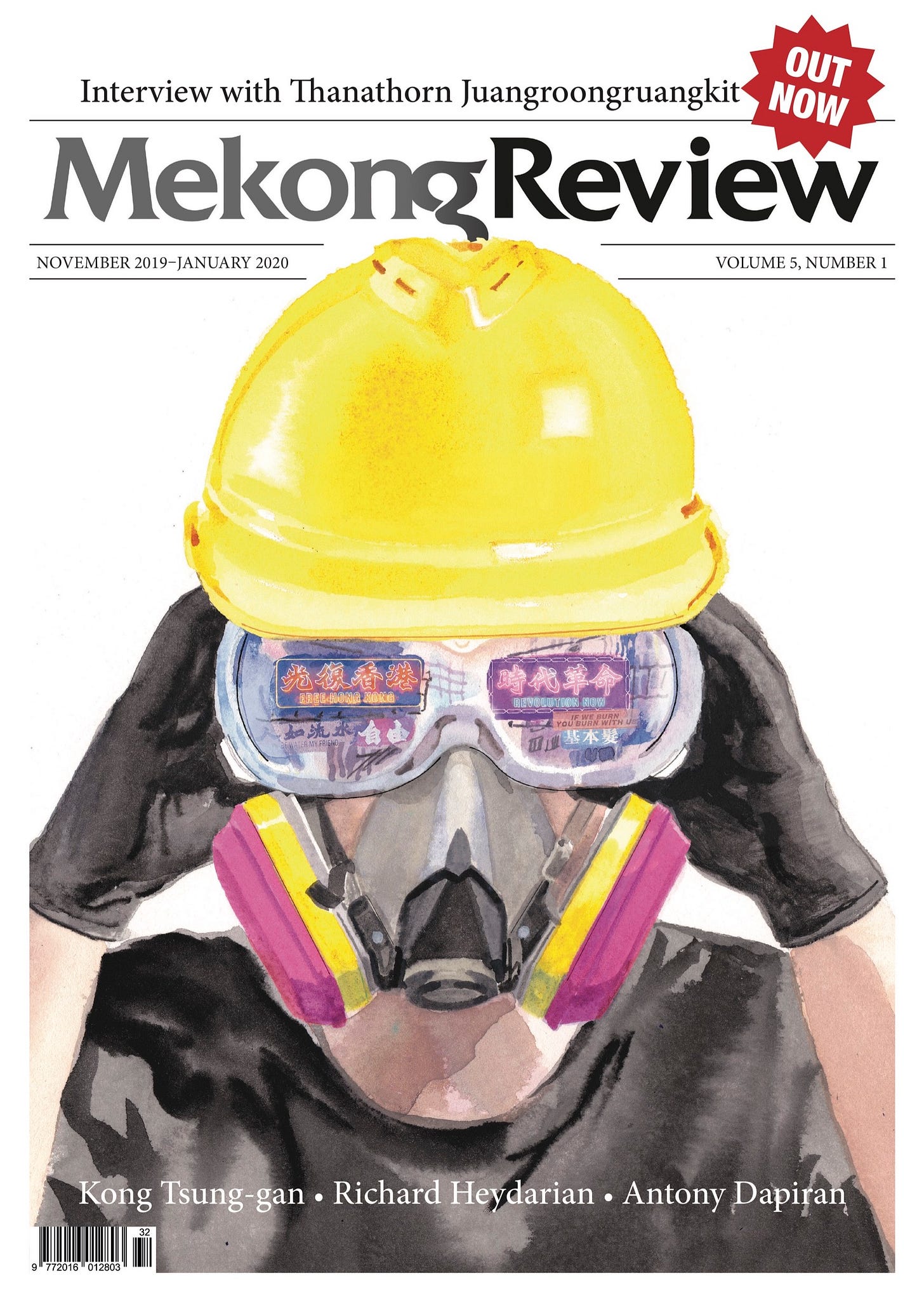 In Hong Kong you can purchase Mekong Review from Bleak House Books, Kubrick, ACO and Swindons / Kelly & Walsh / Hong Kong Book Centre. In Australia it is available at Readings in Melbourne and Gleebooks in Sydney among other places.
In Closing
Some photographs below from Wan Chai on Saturday.
This has been A Procrastination. Time to get back to work.
Antony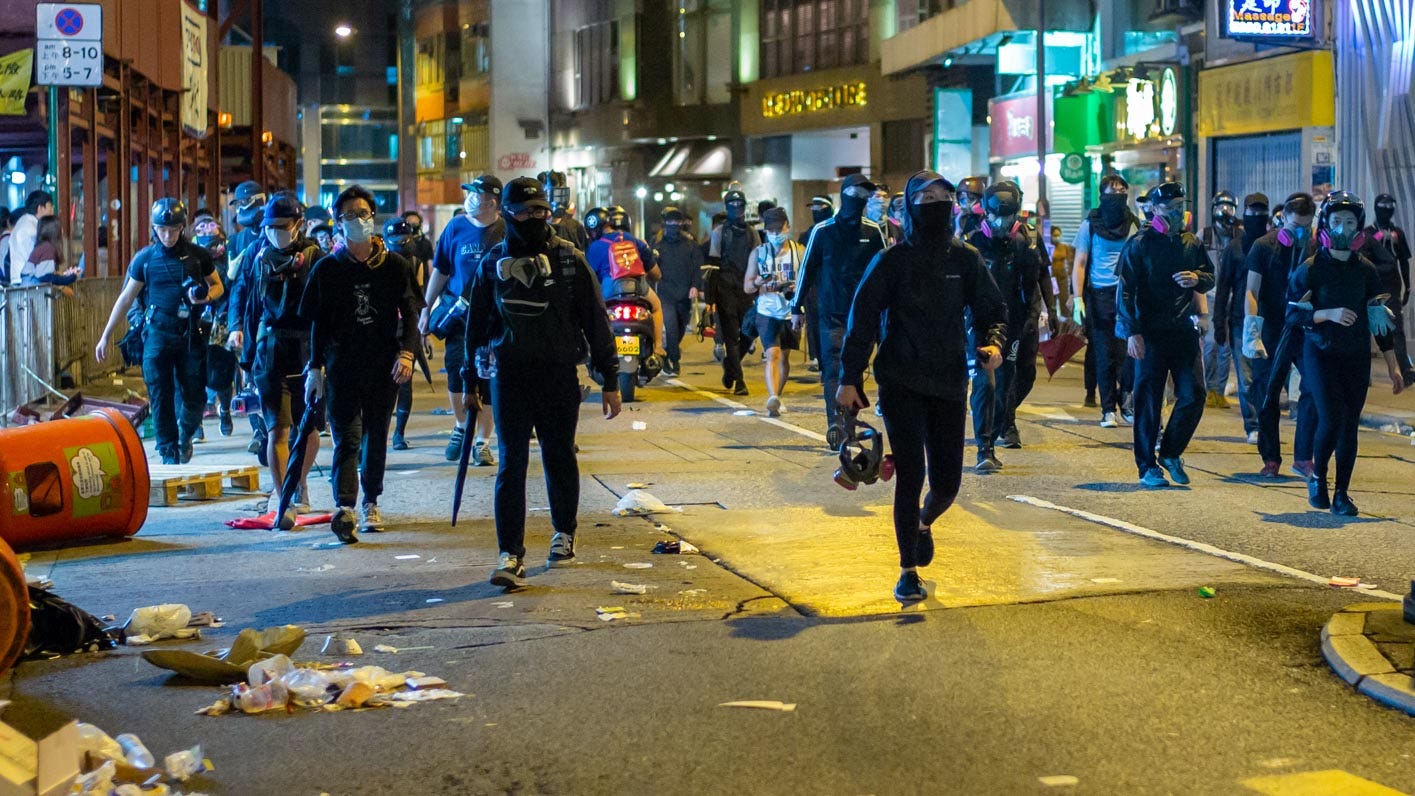 Protesters on the move in Wan Chai.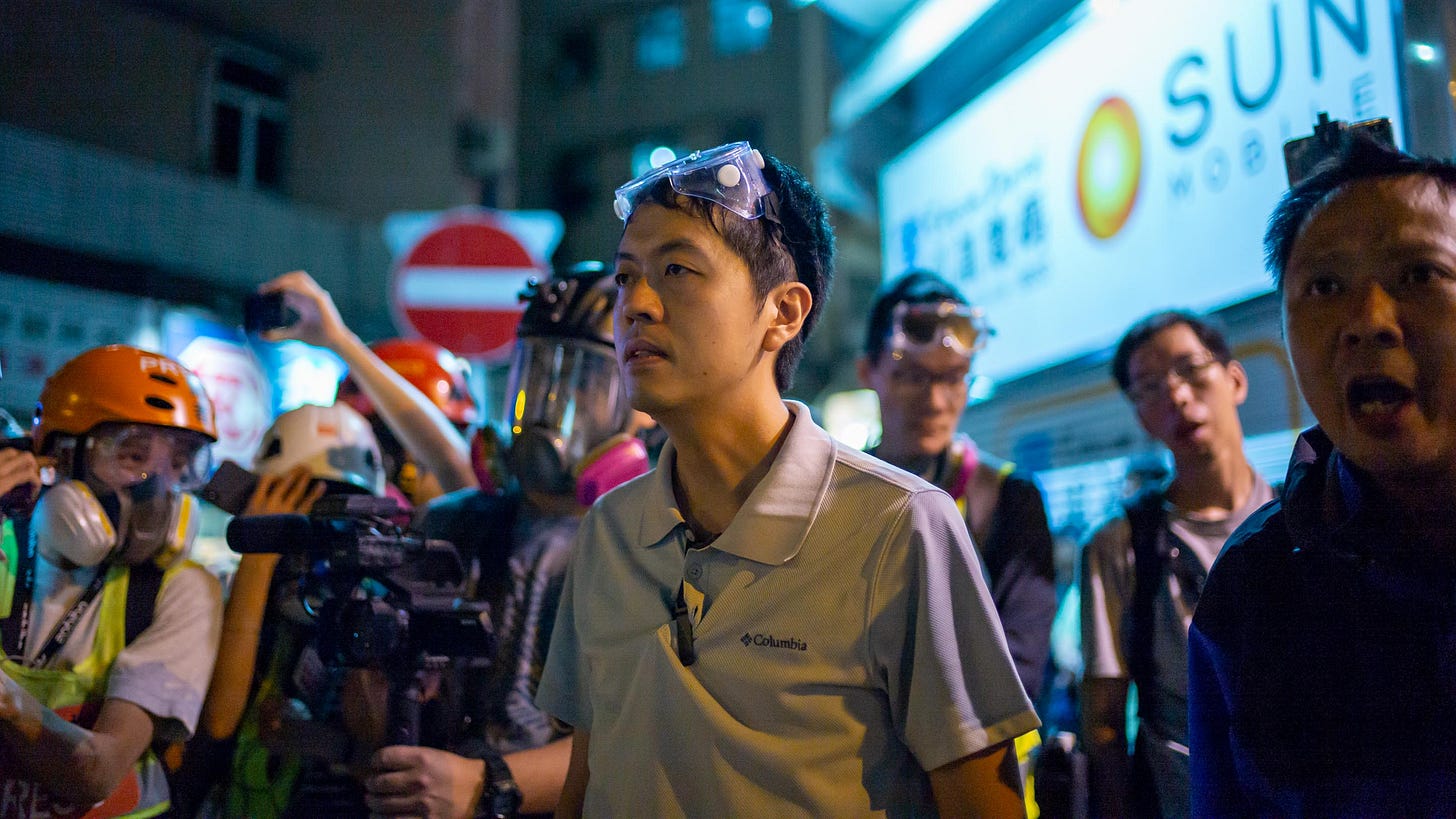 Democratic Party lawmaker Ted Hui monitors police making mass arrests.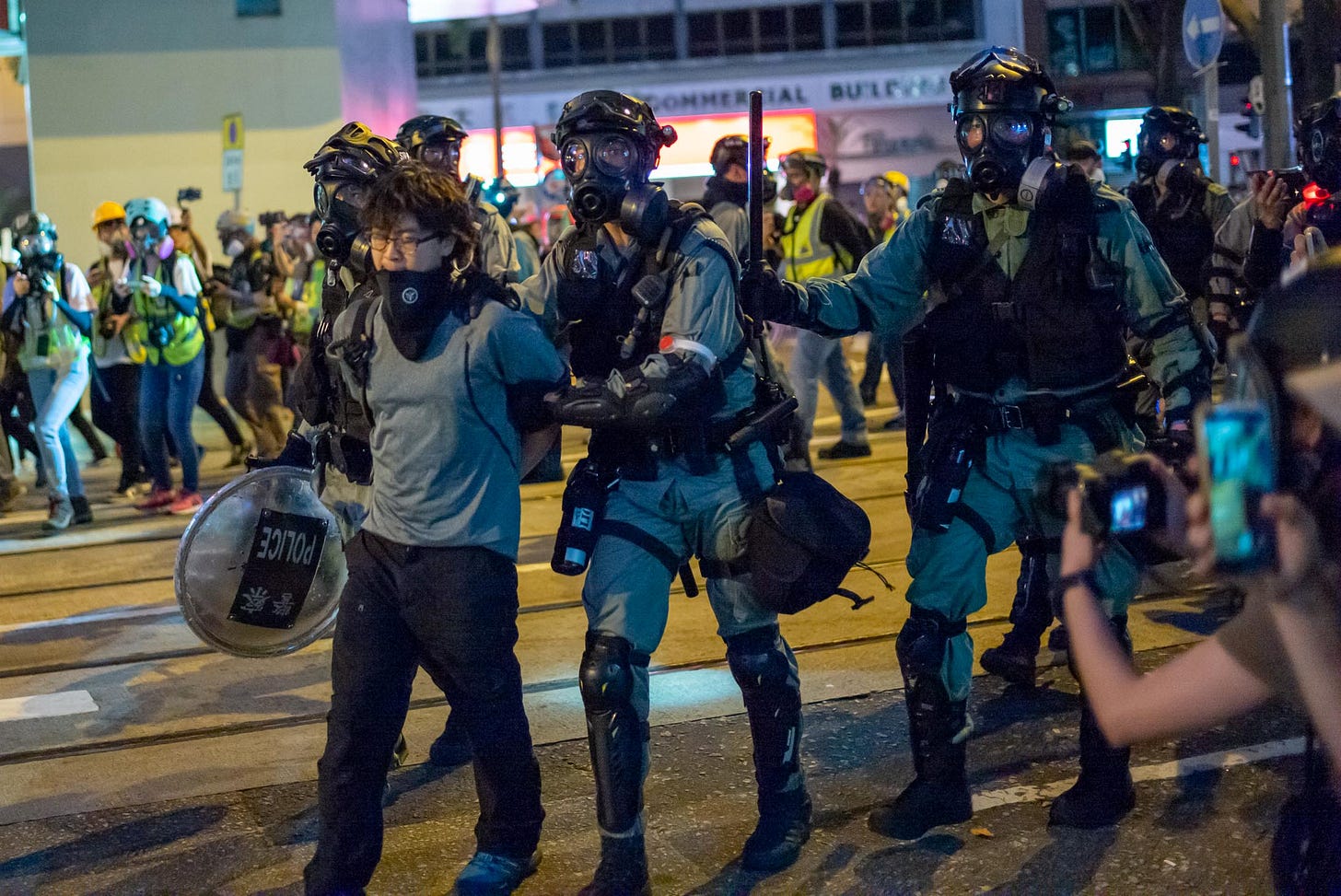 Police effect an arrest.
Did you receive this email by forward? Sign up below to receive A Procrastination direct to your inbox!