A 5th Procrastination: Downward Spiral
In which violence begets violence
Dear friends
This is A Procrastination, an email newsletter from Hong Kong: a City on Fire, and my home for content that lies somewhere between a Twitter thread and "something more substantial".
HK Update: Monday Mayhem
The news flow in Hong Kong was incessant last week: from Carrie Lam's surprise appearance with Xi Jinping, to the tragic fall and subsequent death of a young student protester (the first death to arise directly out of events during a protest), to the "stabbing" of pro-Beijing politician Junius Ho, to the Friday night arrests of seven prominent pan-democrat legislators in connection with scuffles during LegCo committee meetings to discuss the Extradition Bill back in May. With District Council elections just two weeks away, arresting opposition politicians at crucial moments seems to be becoming modus operandi for the Hong Kong government.
Over the weekend, the international panel of experts appointed to assist the government's Independent Police Complaints Council issued (leaked?) a fairly dim assessment of the IPCC's capabilities. As I told AFP's Jerome Taylor:
This panel of international experts was hand-picked by the government and presumably had been expected to endorse the IPCC's work. For them to come out with a statement effectively saying that IPCC is not up to the task is quite damning and only reinforces the urgent need for an independent inquiry.
And all of that was before this Monday morning…
Protesters had called for a general strike today — calling it "Operation Daybreak" — and began blocking roads and disrupting traffic and MTR services during the morning commute. Police quickly responded, leading to multiple flashpoints across the city, including one incident where a traffic patrol officer fired three live rounds, hitting two unarmed protesters at close range. The whole incident was live-streamed & videos circulated quickly online, to widespread shock and dismay. (As of the time of writing one protester remains in critical condition.)
This was just the beginning of a day of chaos that unfolded across the city: police fired tear gas and rubber bullets at the busiest intersection in the Central business district at the height of lunch hour, police fired tear gas on three of the major university campuses, a police motorbike was filmed careening wildly into a crowd of protesters, and, following an altercation, a protester poured flammable liquid on a pro-Beijing supporter and set him alight.
The response from the government after this day of mayhem? Another entirely predictable press conference from Carrie Lam in which she condemned protester violence, going as far as to call protesters "enemies of the people".
One of the best ripostes to Lam's constant refrain of condemnation has come from columnist Michael Chugani, who was once known as a pro-government stalwart but has over the past few months — to the surprise of many — become a voice of reason and conscience. Chugani wrote a few weeks ago in the Hong Kong Economic Journal's EJInsight:
"By now, our leaders should know violence won't end just because they demand it. They have lost all legitimacy, which makes their words meaningless. But they keep on condemning violence as if that alone would stop it…

Lam, our senior officials, pro-government politicians, and their Beijing bosses have all condemned violent protests as if the moral high ground belongs to them. It doesn't. The moral high ground belongs to the protesters. They were forced into using violence after Lam ignored their peaceful voice…

People say Hong Kong has become ungovernable. That's not true. It is Lam who never knew how to govern. No capable leader would demand an end to violence without first providing a political path to end it."
To which I would only add this: Lam is very fond of saying "Violence begets violence." I think Lam is probably correct, although not in the way she thinks: it is state violence that has been responsible for prompting a violent response from protesters. That state violence comes in many forms, from the violence of the police to the violence of the undemocratic political system, and includes the violence of Lam's indifferent and callous leadership.
Protesters online have announced that "Operation Daybreak" will continue tomorrow. It may be another busy week.
Clippings: Mekong Review
I mentioned in last week's Procrastination that the latest edition of the Mekong Review contains my long-form piece: "Hong Kong Burning", a protest diary of our Summer of Discontent.
I am pleased to advise that the paywall has been temporarily lowered and my piece is currently available free to read for this week only. I am really rather proud of this one — it is something quite different to my usual work — and I do hope you will click over there and read it!
Here is a brief extract, from the entry for July 21st:
I escape the tear gas down a side alley to find a cha chaan teng, where a television is tuned to a live broadcast of the events happening a few blocks away. I take a seat at the outside tables and order an iced tea. As clouds of tear gas billow on the screen, I look down the end of the alley to see yellow-hard-hatted crowds rushing down the street, away from the same onslaught I am watching on the television. Some of the fleeing crowd run up the alley, between me and the screen, as the elderly lady who owns the restaurant wipes down the tables, barely glancing up as the crowd hurtles past.

I go back down into the fray. Looking ahead towards Sheung Wan, I see drifting clouds of tear gas illuminated by flashing police lights and protesters' lasers. But now the crowd is shifting again. Word is being passed around, "Leave together at 11:25!" People take up the call and pass it forward, and the crowd begins to fall back in an organised retreat. As they reach the MTR station, they begin to dump equipment and clothing at the station entrances, entering side alleys to change out of their telltale black protester outfits and into ordinary clothes.

By midnight, the protesters have dispersed and the police are left facing an empty road. Outside the MTR stations are piles of hard hats, collapsed umbrellas, broken shields, and discarded face masks and black T-shirts. I wave at [Alvin Lum from the SCMP] as he passes in a rush. "Where are you going?" I ask.

"Yuen Long!" he shouts over his shoulder as he dashes down into the MTR station.

"Hong Kong Burning", illustration for the Mekong Review by Damien Chavanat
Out & About: Contested Narrative
Last week I attended the Asia Pacific Writers & Translators annual conference in Macau where I was invited to give a keynote talk on recent events in Hong Kong.
In that keynote, I posed the question: "What has been happening in Hong Kong?" Here is part of the answer I gave:
Story is important. Story is how we, as human beings, make sense of the world around us. But, perhaps precisely because story is so important, it is not uncontroversial. Story is contested.

What has been happening in Hong Kong has been, among other things, a competition for narrative.

What is the story? Are the protesters valiant freedom fighters or lawless rioters? Are the police out-of-control thugs or professionals trying to maintain law and order? Is this a genuine grass-roots protest movement or a foreign plot? Are the protests about democracy or is it really all about housing affordability?

Narrative is being contested every weekend on the streets of Hong Kong, where protesters and police vie with their bodies to assert their version of the story upon each other.

Narrative is being contested vigorously online, where campaigns of information and disinformation — on both sides — are waged to tell the version of the story each side sees as the truth. The protesters rely upon the power of narrative to build support for their cause, with a vast and growing body of posters, memes and slogans, often borrowing from popular culture and the events of the day, weaving together a complex, intertextual narrative, which at the same time self-mythologises the protesters and their cause.

And the narrative is being contested quite literally as text written on to the surfaces of the city: on the Lennon Walls, rainbow-palimpsests of posters, slogans, messages, artwork, growing organically like "flowers in bloom" (偏地開花) across the city's pedestrian tunnels and footbridges; sometimes torn down by livid pro-Beijing citizens; but then re-emerging, Phoenix-like. And in the graffiti that is sprayed across the walls of this (previously graffiti-free) city during weekend protests, and then scrubbed out by government cleaning contractors during the week, only to present a fresh canvas for protesters again the following weekend.
---
And it so happened that last Saturday evening I saw this competition for narrative unfolding live:
(Keep an eye out for the cameo by fellow APWT attendee, poet Linh Dinh!)
Regular readers of this newsletter will be aware that, as the Hong Kong government has sought to control that narrative, it has turned increasingly to legal measures which have had a significant chilling effect on freedom of expression — that is, on the power of citizens to tell their narrative. Which prompts me to recommend…
HK's Best Indie Bookstores
If you wish to support freedom of expression in Hong Kong, you should consider patronising the city's excellent independent bookstores, in particular:
All three of these stores have a very thoughtfully-curated collection of English and Chinese books, including an excellent selection of titles from local independent publishers.
And if you wanted to pick up a handsome paper copy of the latest, Hong Kong-themed, issue of the Mekong Review, all three have it in stock.
Bleak House is also — as far as I am aware — the only place in Hong Kong where you can find copies of my first book, City of Protest: A Recent History of Dissent in Hong Kong. (Foreign Correspondents' Club members can also purchase one at the FCC reception.)
Happy to have the Winter 2019 issue of Mekong Review in our bookshop with several articles on our fair city — its politics, its people, its survival
And especially grateful to Louise Law
@louisellm
at Spicy Fish
@fleursdeslettres
for her write-up on Ye Olde Bookseller and our humble little bookshop in San Po Kong, which Louise describes as 'one of Hong Kong's most "local" places.' Illustration by Janelle Retka
@janelleretka
Cover illustration by our good friend
@donmak
We love Hong Kong. 香港人,加油
BTW, our
#bookface
photo featured in this post is a rip off from the one our friends at Kubrick
@hkkubrick2001
posted today. Sorry Kubrick. We owe you guys one!
In Closing
Some photos below from our Manic Monday today in Hong Kong.
This has been A Procrastination. Thanks for reading.
Antony
---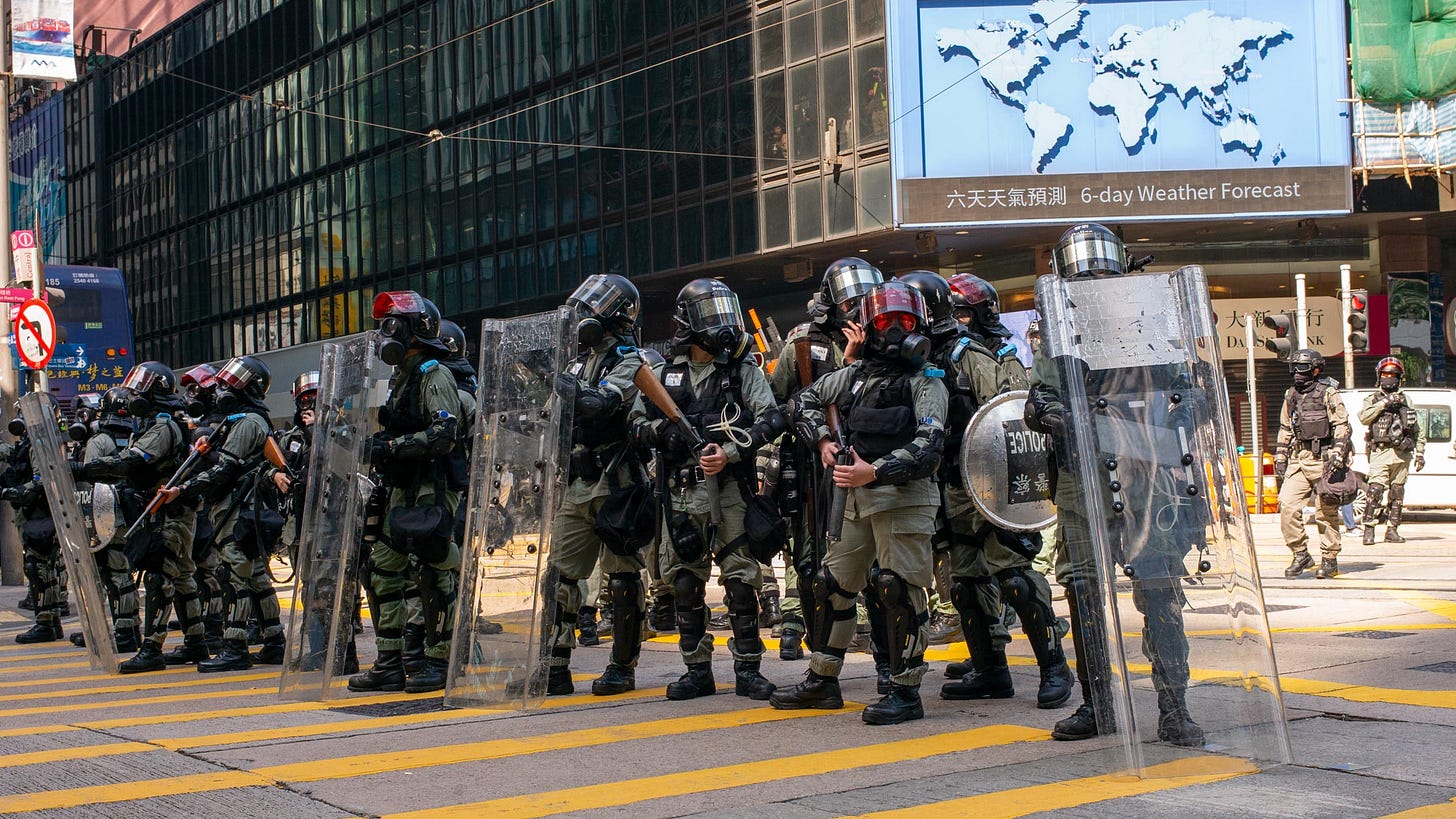 Riot police at the main Pedder Street intersection in Central at lunch hour.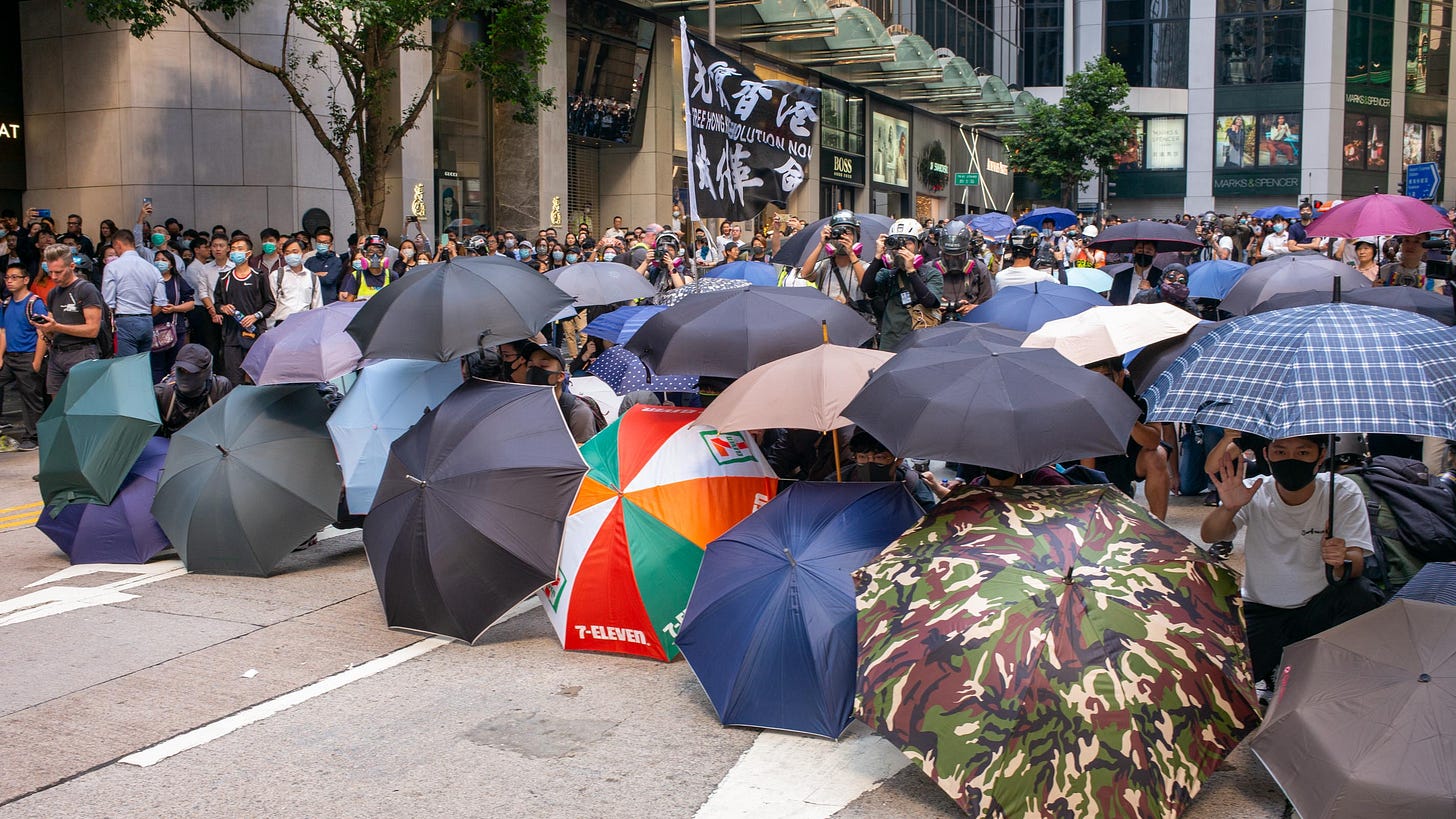 Protester front-line facing the police on Pedder Street, with curious office workers looking on.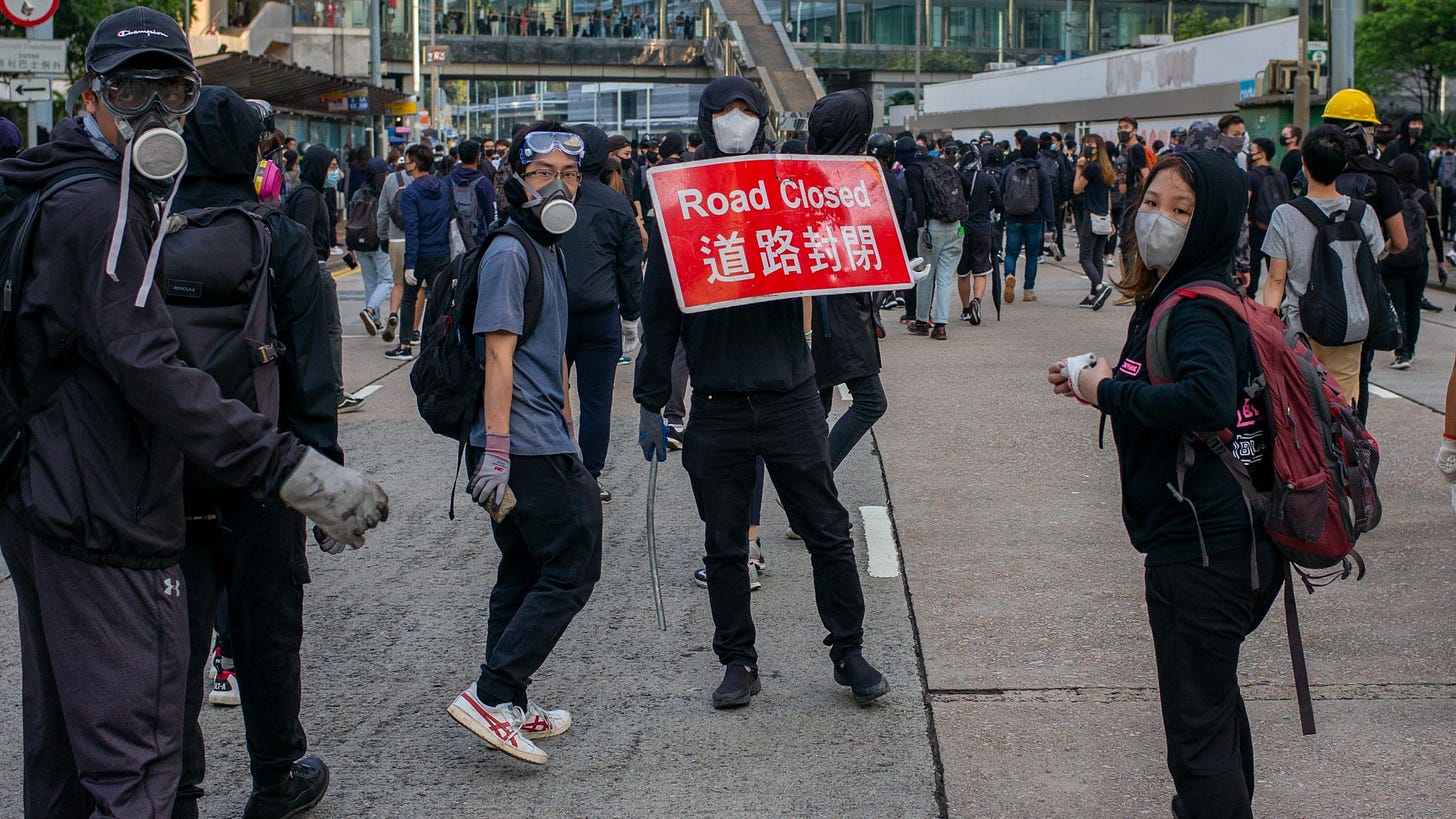 The road was, indeed, closed.
---
Were you forwarded this email by a friend? Sign up below to receive A Procrastination direct to your inbox!