Discover more from A Procrastination
Updates on Hong Kong & China politics, business & culture, and other matters of interest from Antony Dapiran, Hong Kong-based writer, lawyer and photographer, and author of "City on Fire: The Fight for Hong Kong" (Scribe, 2020).
Over 2,000 subscribers
An 11th Procrastination: The Reckoning
In which the usual suspects are rounded up.
Dear friends
First, a quick reminder: I am Antony Dapiran, the author of City on Fire: The Fight for Hong Kong, and this is A Procrastination, an occasional email newsletter from Hong Kong.
In this instalment: Hong Kong faces its reckoning; some recent clippings & appearances; a bit of book news; and more Nourishment & Consolation.
HK: The Reckoning
We always knew there would be a reckoning for the events of 2019.
Beijing was never going to let the Hong Kong people get away with the degree of insubordination, the direct defiance of Beijing's rule, that they demonstrated last year.
This past week, it felt like the moment of reckoning had finally arrived.
The lead-up
We had already seen a week of bellicose rhetoric from Beijing:
Central government spokespeople criticised Hong Kong pan-democrat legislators for, well, for behaving like an opposition party rather than rolling over and doing whatever the government wants, and made the serious allegation that this constituted misconduct in public office (a crime for which former CE Donald Tsang and former Chief Secretary Rafael Hui were both jailed). (Original statement in Chinese.)

Beijing then rejected the suggestion that their interference was in breach of Article 22 of the Basic Law (which prohibits interference by Beijing in Hong Kong's affairs), stating bluntly (and without apparent legal basis) that the law did not apply to those departments responsible for overseeing Hong Kong.

A parade of senior figures, from Central Government Liaison Office director Luo Huining, to CE Carrie Lam and Secretary for Security John Lee, and beyond, lined up to give coordinated statements on the urgent need for Hong Kong to enact Article 23 national security laws.
Mass arrests
Finally, on Saturday, we saw one of the largest mass arrests of pan-democrat legislators and figureheads yet. The list of 15 people arrested was a roll call of the most senior pan-democrats and protest leaders, including father of Hong Kong democracy Martin Lee, Lee Cheuk-yan, Albert Ho, "Long Hair" Leung Kwok-hung, Margaret Ng, Cyd Ho, and Jimmy Lai (again), among others.
They were charged with leading and/or participating in unlawful assemblies during the protest movement last year, in particular protests on 18 August, 1 October and 20 October.
Flashback: What happened on 18 August, 1 & 20 October?
Martin Lee said he was charged for participating in the 18 August protest. This is particularly galling because police essentially forced this initially legal, huge, and peaceful gathering into becoming an unauthorised assembly.
How? Here is how I describe the 18 August protest in City on Fire (it's on page 174 for those of you following along at home):
Police had banned a march, permitting only a rally to be held in Victoria Park, but the crowds that turned out were far beyond its capacity. Thousands stood in the surrounding streets, waiting in the hope that they could join the rally. And then the rain came down — sheets of rain in a tropical downpour. As people stood under their umbrellas, the rally became a march, crowds circling into and out of the park, up the roads towards Central, and then winding back towards the park in Causeway Bay again, in what pop singer and activist Denise Ho called a 'sushi conveyor belt' protest.

Police estimated that 128,000 attended within Victoria Park alone; organisers said a total of 1.7 million marched on the day.

With almost no visible police presence, the rally was entirely peaceful and incident-free… Hong Kong celebrated its first tear gas–free weekend in a month.
The 1 October protest was chaotic and violent, and all the more irritating for Beijing given it occurred on China's National Day, and the 70th anniversary of the founding of the PRC. Here an extract from City on Fire describing part of the 1 October protest (this is on page 208):
National Day presented exactly the kind of split-screen moment for global television that Xi had no doubt been hoping to avoid. While rigid rows of PLA soldiers marched in front of flag-waving crowds at Tiananmen in Beijing, black-clad protesters skirmished with police on the tear gas–filled streets of Hong Kong.

The National Day protest, from the moment it began, had an aggressive anti-China, and anti–Communist Party, mood. Notwithstanding the march having been banned by police, tens of thousands, of all ages, joined. The placards carried by protesters and graffiti on tram stops and bus shelters along the route bore messages such as '天滅中共' ('Heaven destroy the CCP') and '10.1 賀你老母' ('10.1 celebrate your mum'). Placards and banners bearing National Day celebratory messages were torn from buildings and trampled upon or set alight, and PRC national flags burnt. A giant poster of Xi Jinping's face was pasted to a wall, and a supply of dozens of eggs placed alongside — the crowd gleefully lined up to pelt Xi's face with eggs in a kind of subversive carnival game. Beijing-affiliated businesses, in particular the premises of the PRC state-owned banks, were vandalised and graffitied with slogans such as 共匪 'Communist Bandits' or 死支那 'Die Chee-na'.
And I now see that this Tweet on 1 October was sadly prophetic:
The protest on October 20 (not covered in detail in the book… Hey, there were a LOT of protests last year!) was a large protest in Kowloon that featured violent clashes with police and extensive vandalism of PRC-owned or affiliated businesses.
International reaction
The arrests prompted a global outcry. (Perhaps charging 81 year-old Martin Lee — such a senior and internationally-respected figure — was particularly provocative.) Governments including the UK and Australia, and senior US leaders including Nancy Pelosi, Mitch McConnell, Mike Pompeo and William Barr, among others, issued statements condemning the arrests. The reaction to this criticism from Beijing was predictably fast and furious, always a sign that the criticism was keenly felt.
As his own personal tribute, Melbourne-based Chinese dissident artist Badiucao drew portraits of all those arrested. Here is his fierce Margaret Ng (the full collection is in the Twitter thread):
Where does this end?
Pro-Beijing sources have reportedly said this is 'just the beginning' of a broader crackdown.
However, it is doubtful that these arrests will crush the protest movement as Beijing might hope. The protests were famously leaderless (although Beijing does not appear to believe this), and arresting a few prominent leaders will not stop them. The discontent is still there: none of the underlying political issues or anxieties have been resolved.
So what do the discontented do, when they are excluded from the formal political system, when their peaceful protests are ignored or banned, when they are systematically hounded and punished through the criminal justice system in a campaign of 'Lawfare'? Do they turn to more extreme methods?
One of my favourite recent items of 'isolation reading' was the lyrical and moving Inventory: A River, A City, A Family, a coming-of-age memoir set in Troubles-era Derry by author Darran Anderson.
Anderson's description of the cycle of violence that unfolded in Northern Ireland should be a salutary warning to us here in Hong Kong. Anderson writes:
There are other much more compelling and truthful reasons [than ideology] for conflict, some noble, some cynical; not least fear, revulsion and a sense of injustice. Countless signed up after harassment. The Bloody Sunday and Ballymurphy masscares, when the British Parachute Regiment went on a killing spree of Catholic civilians, were huge recruitment drives for the IRA, showing the protest route of the [anti-violence] SDLP [Social Democratic and Labour Party] to be woefully insufficient... It worked both ways. Many prominent Loyalists became involved after seeing blood-soaked bundles, containing what had moments earlier been little children, being brought out of what had been the Blamoral Furniture Company and elsewhere.

Violence begets violence. Those immersed in it know it; those who profit from it at a distance know it even more …
Meanwhile, attention is focused on the upcoming Legislative Council elections in September, with activists expected to concentrate their efforts on trying to obtain another strong result for pan-democrat parties. Of course, Beijing is focusing their attention on the same event: this weekend's arrests may be part of a plan to convict and disqualify as many pan-dem politicians as possible to prevent their participation in those elections. This last week has seen only the first moves in what will be a multi-month campaign.
Recent articles
If you are looking for a quick update on where Hong Kong stands — or at least where it stood a week ago — and looking ahead to those elections, this piece I wrote for the UK's i-news will give you that in just 800 words. In that piece (published 9 April) I wrote:
Hong Kong has now become the kind of place where dissidents fear the proverbial knock on the door in the middle of the night. It is one of the many ways in which Hong Kong seems to be drawing closer to the mainland.
It is dispiriting to see this so quickly become more than merely a rhetorical flourish.
I conclude the piece by observing:
Hong Kong stands poised at a crossroads, its people emboldened by last year's protests and infuriated by government culpability for the virus, pushing for more autonomy or even independence, facing a Beijing regime intent on crushing dissent and bringing the city back under its control. The relative quiet resulting from virus lockdowns may prove to be merely the calm before another storm.
Recent events are likely only to provoke anger even further.
If you are looking for a summary of last year's events in Hong Kong (think of it as a very high-level précis of City on Fire), my contribution to the ANU's annual China Story Yearbook does that. The whole book is available for free download online here, with contributions from some of the sharpest minds observing contemporary China.
Authoritarian regimes vs civil society
I spoke to The Age's Christian Zappone for his story about the human rights issues arising from the coronavirus lockdown. The full version of my remarks to Christian, which specifically related to Hong Kong, were as follows:
The pandemic is giving governments across the world the opportunity, or excuse, to enact constraints on civil society that would ordinarily be considered an unacceptable restriction on rights and freedoms. In the case of some regimes, they have been able to enact restrictions that in the past they would only have dreamed of. The Hong Kong government recently banned public gatherings of more than four people. In the context of the pandemic, that hardly raised eyebrows: many other governments around the world have done the same. However, it is a move that the Hong Kong government would no doubt have loved to have taken last year in the midst of seven months of pro-democracy protests that the government was powerless to stop.

I think we will only know which side — authoritarian regimes or civil society — has the upper hand when we come out the other side of this epidemic and the time comes to begin removing these restrictions. More liberal governments would be expected to remove the restrictions as soon as practicable, whereas authoritarian regimes may take this opportunity to normalise these restrictions on civil society and to keep them in place longer — or perhaps even permanently.
After the week we've had it feels like Hong Kong is leaning towards 'permanently'.
Out & About
I had the great pleasure of being interviewed by Bernice Chan of the SCMP a couple of weeks ago. Last Friday's SCMP carried the resulting interview.
I also had the pleasure of speaking to Amy Mullins once again for Melbourne's Triple-R radio on her 'Uncommon Sense' programme at the beginning of April. You can listen to our long conversation here (you need to scroll forward to around the 1 hour 17 minute mark for the relevant segment).
Book News
Jeff Wasserstrom kindly included my book in his list of "Ten New Non-Fiction Books Not About Plagues" for the LA Review of Books, calling it "a nuanced, lively eyewitness account" of the 2019 protests. You should check out a number of other great China-related titles in Jeff's list, as well as Jeff's own new book, Vigil: Hong Kong on the Brink, a concise and thoughtful overview of how Hong Kong comes to find itself at this moment in history.
If you haven't got your copy of City on Fire: The Fight for Hong Kong (yet!), you can now purchase the book at bookstores in Australia, the UK and Hong Kong — please support your favourite local independent bookstore, many of whom have special arrangements for home delivery during the lockdowns. All the usual online outlets also have the book (although Amazon US currently only has the Kindle version — paperback will be out in the US in June).
And thanks to those of you who contributed kind Amazon ratings/reviews since my last newsletter. More are always welcome! As are Goodreads reviews, shout-outs on Twitter, etc.
Nourishment & Consolation
Ordinary life is much closer-to-normal here in Hong Kong than what many of you are currently experiencing elsewhere, at least from a virus point of view. But anxiety levels are still high — and even more so after the events of the past week. Here are a few sources of nourishment and consolation for you this week.
Patrick Stewart has been reading one of Shakespeare's sonnets every day (together with a little of his own commentary on each), and posting the video to his Twitter feed, and it is glorious. Here he is reading the famous Sonnet 18:
A movie recommendation (available on Netflix): The Phantom Thread, a meditation on the dedication of an artist to his craft, and the personal price he — and those around him — must pay for that obsession. The film is directed by Paul Thomas Anderson (to my mind one of the great contemporary directors), and stars Daniel Day-Lewis as a haute-couture dressmaker in 1950s London. Day-Lewis announced after the movie was completed that it would be his last. It seems there was a direct connection between the making — and content — of this movie and Day-Lewis's decision to retire from acting, as he suggested in an interview:
"Before making the film, I didn't know I was going to stop acting. I do know that Paul and I laughed a lot before we made the movie. And then we stopped laughing because we were both overwhelmed by a sense of sadness. That took us by surprise: We didn't realize what we had given birth to. It was hard to live with. And still is."
If it is indeed to be the last film of his career, it is a worthy curtain call.
Finally, two pieces of inspiration for writers and would-be writers.
Writing in The Guardian, columnist Paul Daley exhorts us all to keep a diary:
Our geographic orbits have shrunk. Our homes have become countries, our streets worlds and our suburbs universes. Once small things like a visit to the supermarket, a chat with a neighbour, a dog walk, hold greater emotional meaning than we'd ever have dreamt a few months back …

As social isolation due to the Covid-19 pandemic continues, our daily travails become ever more mundane. But to writers, historians and researchers 20, 50, 100 years hence, the records of them will be priceless — the voices that will drive narratives examining this remarkable time.
And Darran Anderson, whose memoir Inventory I cited above, has some inspiration for self-isolating writers in this piece in the Times Literary Supplement on the writings of confinement:
All writers move through time and space to some degree in their work, however constrained they may be by health, work, poverty or circumstance. … Those who are confined dream themselves to the world outside through their writing.
And finally
Below, a photo taken at Golden Hour on the day of ill-fated 20 October protest in Kowloon.
Wishing you all good health and — in spite of recent developments — buoyant spirits.
Antony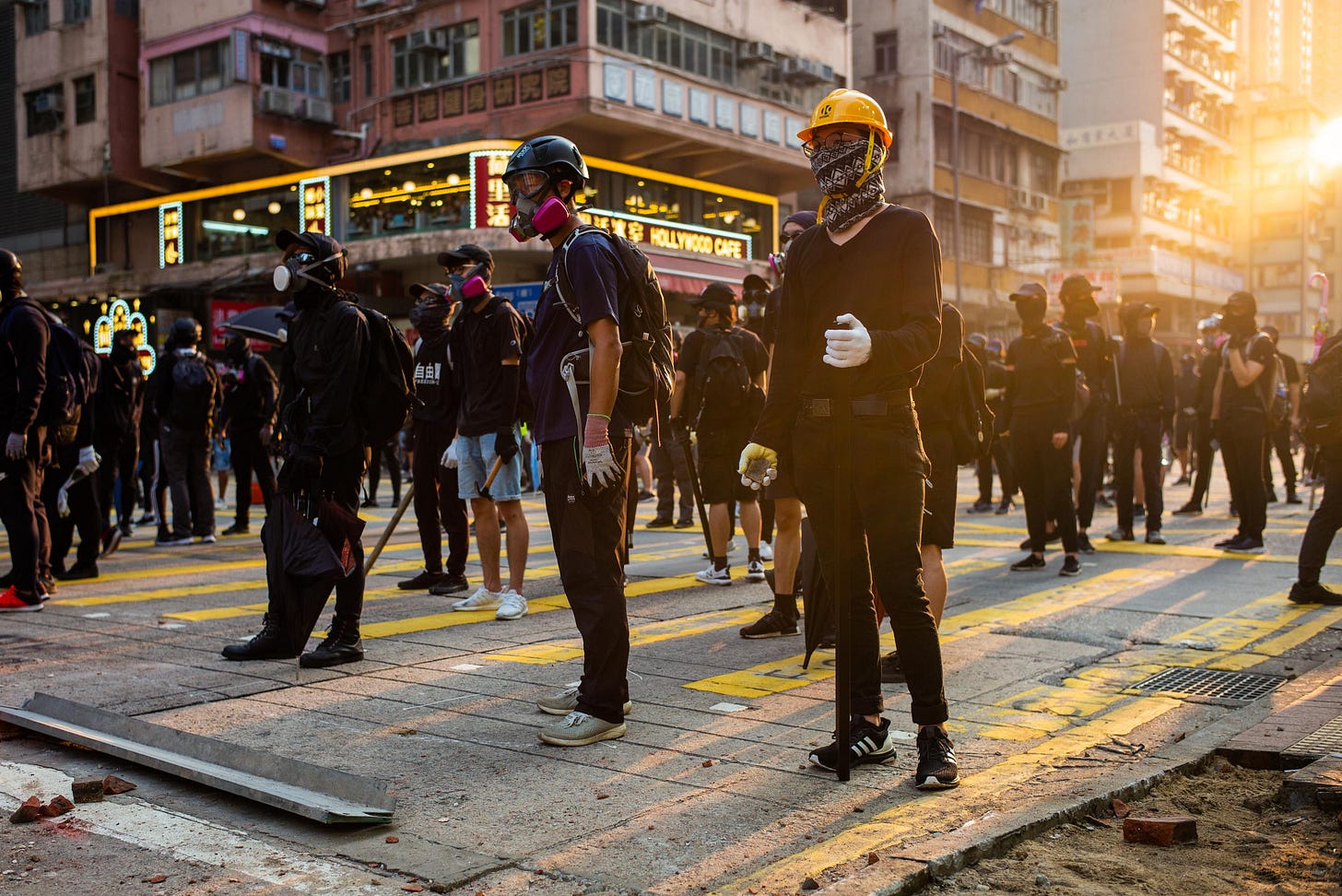 Were you forwarded this email by a friend? Sign up here for free so you can receive future instalments direct to your inbox!