Discover more from A Procrastination
Updates on Hong Kong & China politics, business & culture, and other matters of interest from Antony Dapiran, Hong Kong-based writer, lawyer and photographer, and author of "City on Fire: The Fight for Hong Kong" (Scribe, 2020).
Over 2,000 subscribers
A 9th Procrastination: The book is done!
Beijing's leadership changes for Hong Kong (& shameless self-promotion)
Dear friends
This is A Procrastination, an occasional newsletter from Hong Kong.
You can always unsubscribe by clicking on the "Unsubscribe" link at the footer of this email. If you were forwarded this email by someone else, you can subscribe to receive future instalments directly by clicking the "Subscribe now" button, also at the end of this email.
Further below, I offer a few thoughts on Beijing's recent Hong Kong leadership changes. But first, having spent the past two months locked away in the woodshed, I am now delighted to announce…
Book news!
City on Fire: The Fight for Hong Kong has gone to press, and will be published in Australia on 16th March, and in the UK, Hong Kong and elsewhere in mid-April.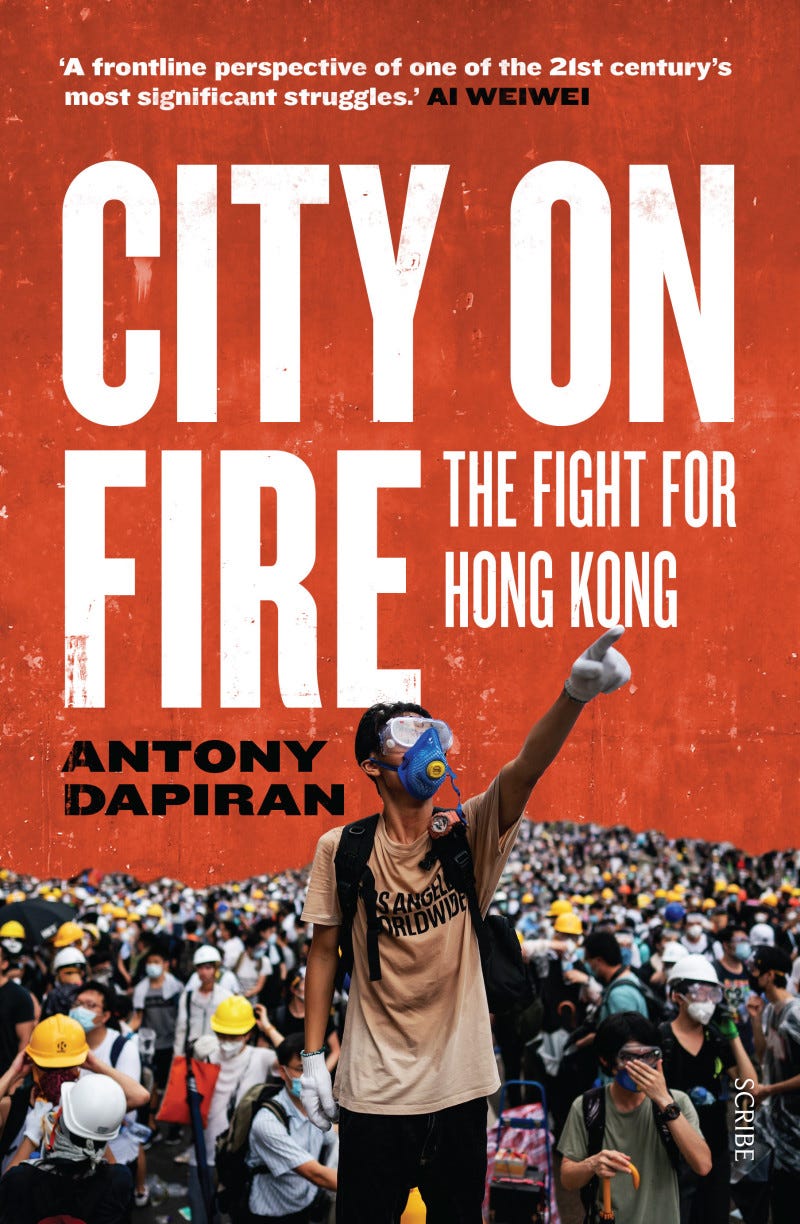 Read an extract
Would you like a sneak peek? You can read an extract from the book's prologue here.
Tear gas rounds describe a graceful arc as they drop down out of the blue sky, trailing feathery tails of smoke like streamers. The shells hit the road with a ping, and sparks fly as they skip gaily along the asphalt. As they roll to a stop, the shells hiss like an angry snake, dense smoke pouring out of the top of the small aluminium canister, and soon the street is enveloped in clouds of smoke.
Endorsements
I am honoured to have received a number of kind endorsements for the book.
Ai Weiwei wrote:
City on Fire…offers a firsthand analysis and description of one of the 21st century's most significant struggles… This book provides a clear narrative and frontline perspective of a complex issue. It is the most comprehensive book about the Hong Kong protests from a professional observer.
Professor Kerry Brown, director of the Lau China Institute at Kings College London, wrote:
The events that have rocked Hong Kong over 2019 have bewildered and surprised people inside and outside the city. This is a timely, well-informed attempt to make sense of everything that has happened — critically important in view of the confusion, and contention, that this event has caused.
Pre-order now!
You can be among the first to receive the book if you pre-order now!
If you are in Australia, you can pre-order directly from the publisher Scribe, with free delivery, and receive the book immediately upon Australian publication date. Australian readers please pre-order here.
If you are in Hong Kong and want to be among the first to read the book, you can also pre-order from Scribe Australia via the above link to receive the book upon Australian publication date (earlier than other readers in Hong Kong!), with a modest postage fee.
If you are anywhere in the world and would like to order the Kindle edition from Amazon, you can do that at a discounted price and receive the book immediately upon Australian publication date. Amazon Kindle readers please pre-order here. (I highly encourage Kindle pre-orders, to help push the book up the Amazon charts!)
If you are in the UK, you can order direct from Scribe UK, and will receive the book upon UK publication date. UK readers please pre-order here.
(If any of you would like to receive an advance reading copy for review purposes, please reply directly to this email and I will arrange for you.)
---
HK Leadership: Heads Roll
Last week Beijing announced the latest of two major leadership changes for Hong Kong. Xia Baolong will become the new head of the State Council's Hong Kong & Macau Affairs Office (the top department overseeing Hong Kong policy). This follows the announcement last month that Luo Huining will become Beijing's top representative in Hong Kong, heading up the Central Government Liaison Office.
After the events of last year (the district council election result being just as alarming as the protests from Beijing's point-of-view), it was inevitable that heads would roll. As I observed to Chun Han Wong of the Wall Street Journal, the replacement of the two most senior Mainland officials overseeing Hong Kong while leaving Carrie Lam in place as chief executive shows where the real power lies in Hong Kong: Beijing chose to replace the puppet masters, rather than the puppet.
The two appointees are close allies of Chairman Xi Jinping, and the following observations apply equally to both of them:
They have proven credentials in implementing Xi policy priorities, including (with particular relevance to Hong Kong): maintaining central control over China's restive fringes (Luo led Qinghai province, home to a significant Tibetan population) and constraining the capacity of civil society (Xia cracked down on Christian churches in Zhejiang). This is not good news for those concerned about Hong Kong's autonomy and freedoms.

Neither have either prior experience in Hong Kong nor any pre-existing relationships. This could be seen as potentially bad news for the tycoons and other vested interests in Hong Kong: neither Xia nor Luo will be averse to treading on a few toes. That said, from Beijing's point of view there is currently no viable alternative Hong Kong governance model to the existing alliance between the Communist Party and the tycoons.

Both are senior cadres on the brink of retirement, and this will likely be the final posting for both of them. Make of that what you will.
The appointments signal a continuation of existing policy towards Hong Kong, as outlined in the Fourth Plenum (see the discussion of the key elements of this policy in my 4th Procrastination).
Priority number one for these new leaders will be securing a satisfactory result for the pro-Beijing parties in September's LegCo elections. The coronavirus has smashed any plans Beijing had of positioning itself as the guarantor of Hong Kong's "prosperity and stability". Will Beijing be able to regain control of the narrative if/when the coronavirus subsides? Will Carrie Lam get the boot in March as predicted by the Financial Times? Plenty to watch in the coming months!
Out & about
I was in Norway last week, speaking about Hong Kong together with fellow author Jason Ng at the Bergen International Literary Festival. Thanks to the festival for the invitation, and to the very engaged audiences for their interest in Hong Kong.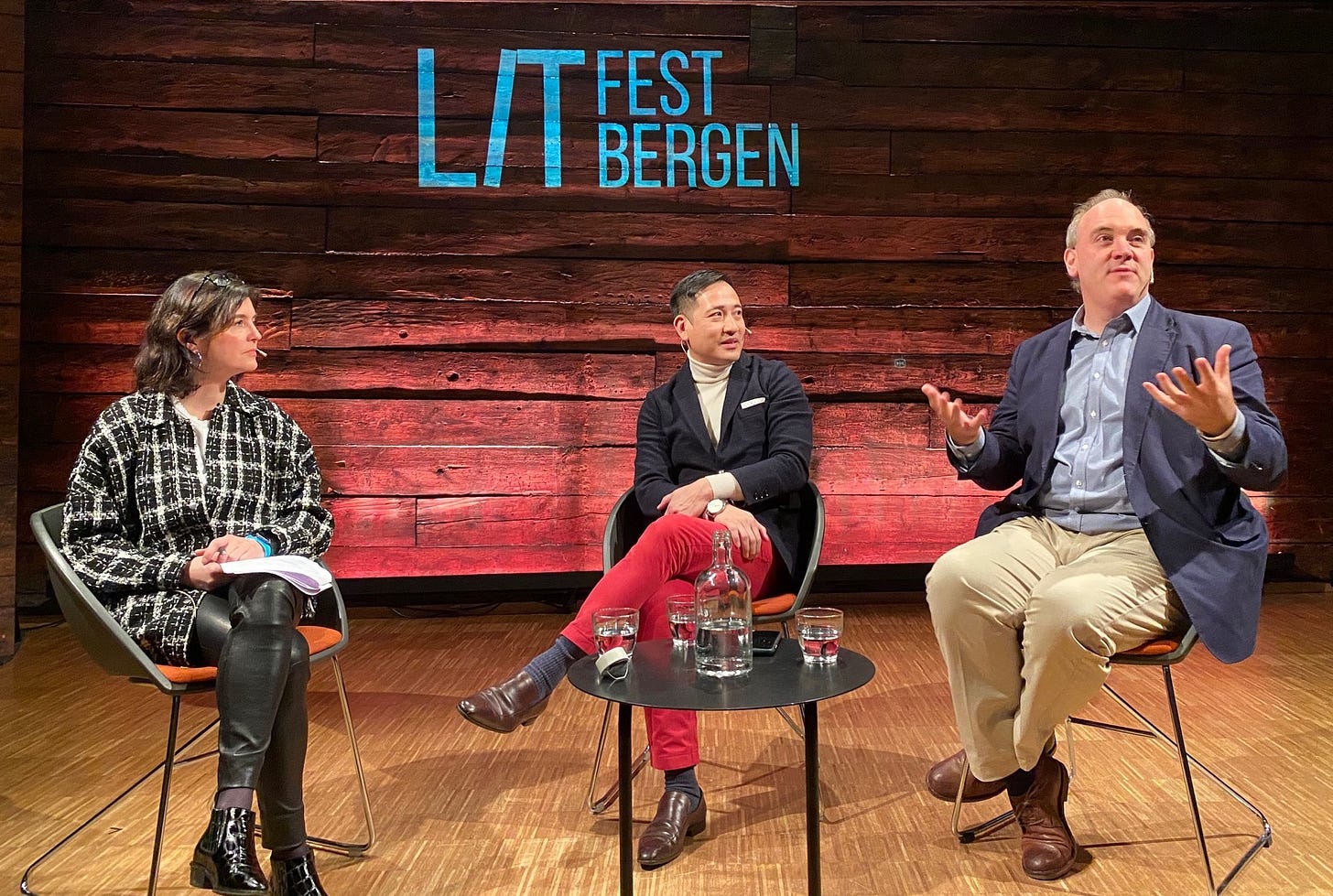 I will be touring the book at a number of events in Australia in May. More details to come soon.
And finally
In the next edition of this newsletter: some thoughts on Hong Kong protest in the age of coronavirus.
I am very pleased that the book will include a selection of my photographs, in colour. A couple of the photos that will be included are below (for some 9 June 2019 nostalgia). Be sure to buy the book to see all of the photographs in their full-colour glory. (Did I mention you can pre-order it?)
Til next time, I wish you and your loved ones good health.
Antony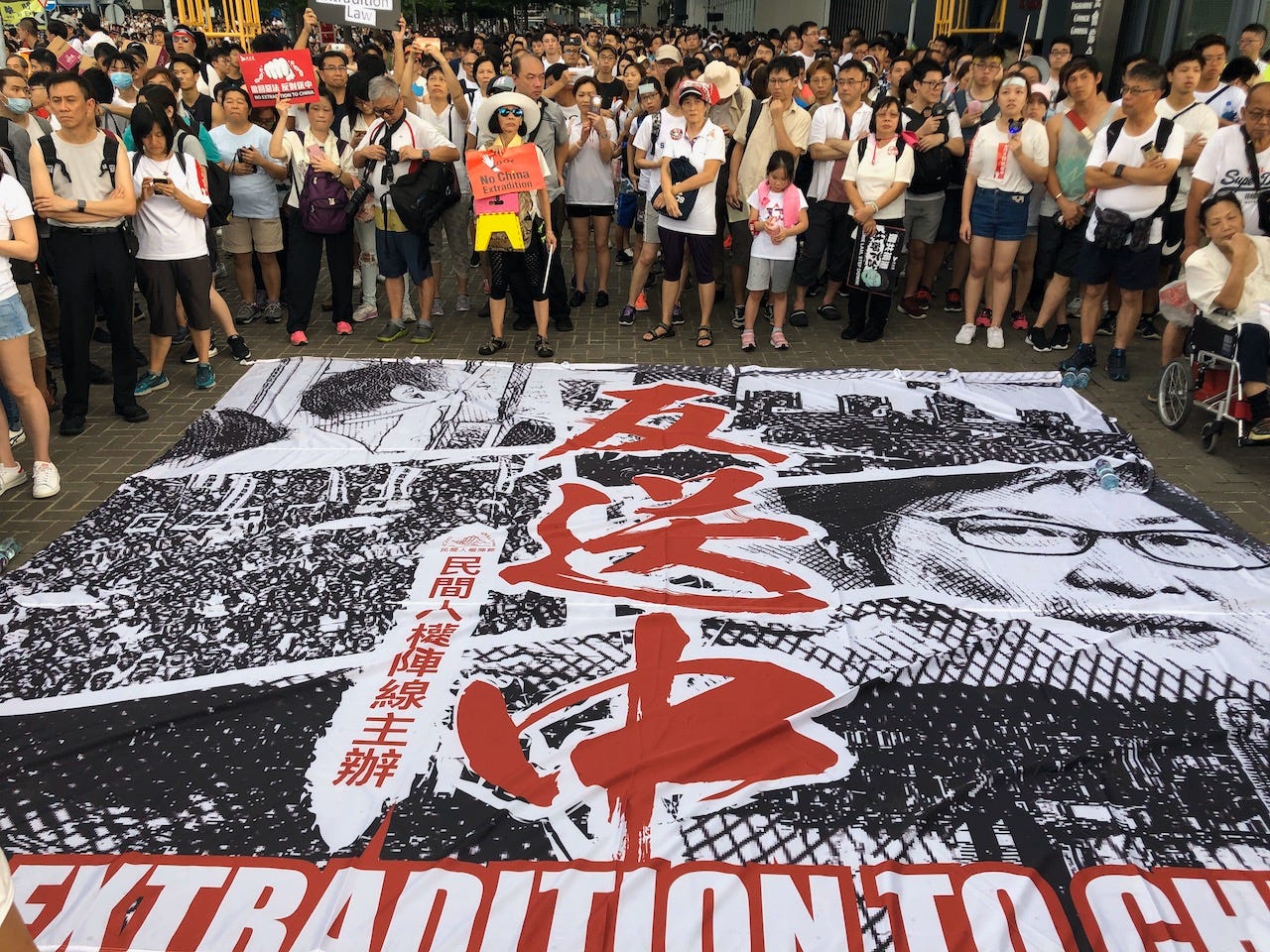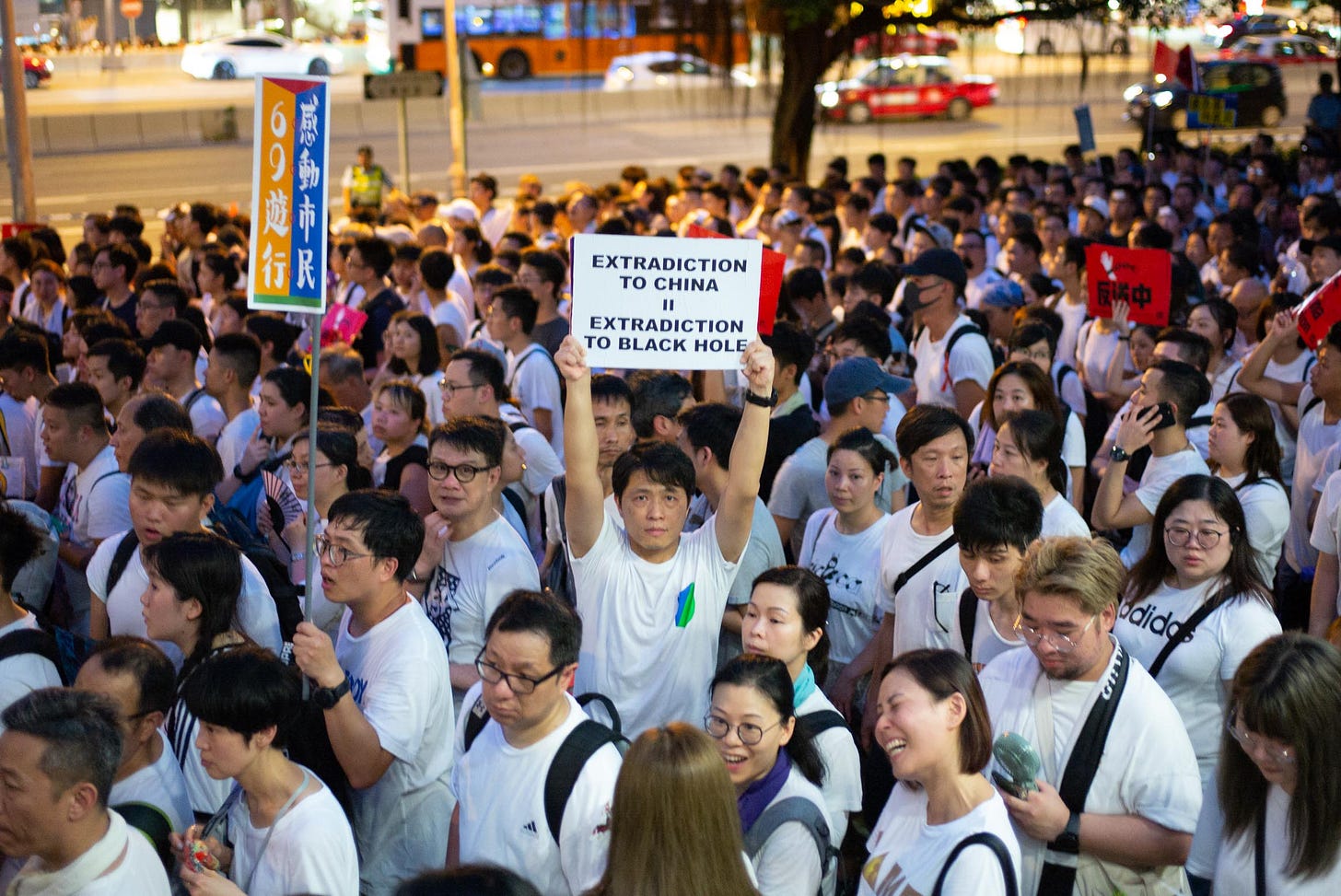 ---
Did you receive this email by forward? Sign-up for free so you can receive future editions directly.